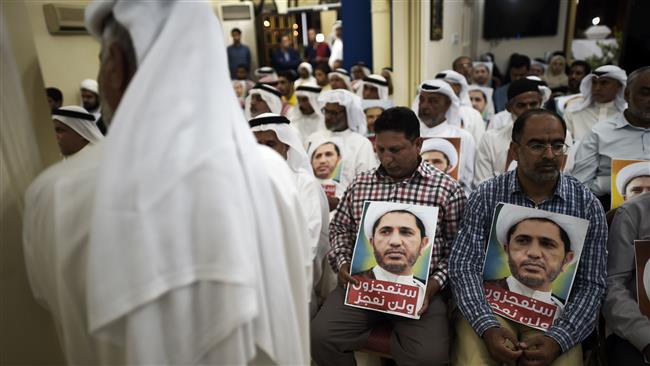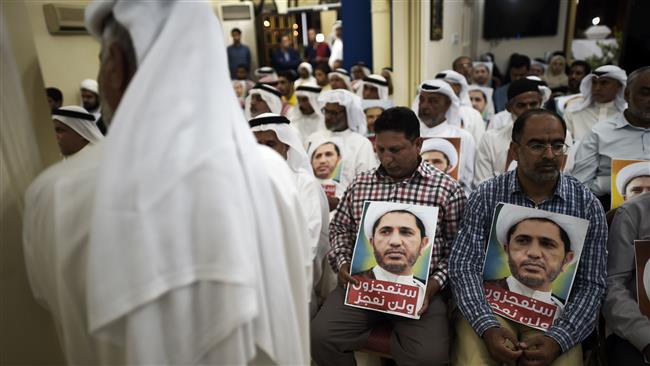 Bahrain's top court has rejected a request to grant freedom to top Shia cleric Sheikh Ali Salman. Press TV has spoken to Nabil Mikhail, a professor at George Washington University and Jihad Mouracadeh, a Middle East expert and political analyst, about this latest ruling by Bahrain's Supreme Court of Appeal.
Nabil Mikhail is of the opinion that the trial of Sheikh Salman is a very important feature in the political life of the kingdom of Bahrain. He said that the process of his trial is long-term, since so many factors could affect the ruling issued by the court, such as the role of Washington, the public opinion and the Arab and Islamic world's feedback on this case. "However, he still has the chance to appeal."
It was in July 2015 that Sheikh Salman was sentenced to four years in jail on charges of inciting hatred in the Persian Gulf kingdom. After reversing an early acquittal, an appeals court in May more than doubled the cleric's jail term to 9 years on charges of calling for regime change by force.
He argued that it is not fair of Bahraini officials to double the sentence of Sheikh Salman only for his request of "full application of law," describing the whole process as "personal revenge."
"This is wrong, because he was convicted on a number of charges and they are equivalent in the penal code of any nation with certain punishments and penalties. But if it is just increasing in order to humiliate him, this is excessiveness in the use of the administration of justice."
Insisting on the Bahraini nation's right to determine their country's political future, he stated that "it is up to the Bahrainis to decide the future of protest in their country. Either it will be met with repression or political concession."
The regime's move to extend Salman's jail term sparked nationwide protests that have continued to date.
Mikhail went on to say, "The Obama administration does not have a strategy toward the [Persian] Gulf, in particular, and the Middle East, in general. It does not know how to deal with Syria, Egypt or Iraq."
Referring to media reports of the US move to block the sale of Lockheed F-16 fighter jets to Bahrain, he mentioned that "it's just a total mess that the Obama administration has been doing in the Middle East, applied to Bahrain, applied to everywhere; especially Syria which is a real tragedy."
Informed sources have been quoted by media as saying that the Obama administration has told Congress it won't complete approval for Bahrain to buy as many as 19 F-16 fighter jets from Lockheed Martin and upgrades for older ones for almost $4 billion until it demonstrates progress on human rights.
Jihad Mouracadeh, a Middle East expert and political analyst, was the other guest attending Press TV's 'The Debate' on Monday.
He believes that Sheikh Ali Salman, as a Bahraini citizen, should respect the laws of the country, and that his calling for the overthrow of the government is "totally unacceptable."
He is of the opinion that the US is not on the side of the Bahraini government on this issue; rather, it is intervening to calm things down.
"There have been reforms in Bahrain. However, these reforms have not gone as far as the opposition wanted to, because the government is particularly aware of attempts to overthrow the regime," Mouracadeh said.
According to the analyst it is important to find a solution to settle the differences between Sunnis and Shias along with political reforms in which, he believes, the US has a role to play.
The Al Khalifah rulers have been giving a heavy-handed security response to dissidents and rights activists. Troops from Saudi Arabia and the United Arab Emirates have been assisting the regime forces with their campaign of arrests and intimidation since 2011. The crackdown has left scores of people dead and hundreds more injured.