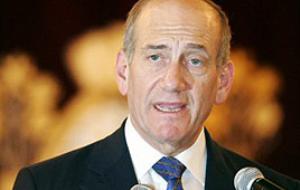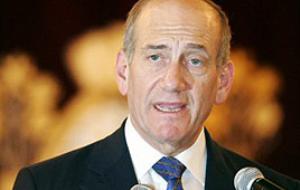 Pro-Palestinian protestors disrupted Ehud Olmert's speech in a San Francisco hotel on Thursday night, exactly one week after the former Israeli premier was verbally attacked at the University of Chicago over war crimes committed by the Zionist entity during the Gaza war.
"You are a war criminal and a murderer," one of the protestors shouted at Olmert during the speech before being removed from the auditorium by security officers. Another protestor shouted, "You are a war criminal. San Francisco should be ashamed to have a war criminal here."
A young woman, identified by the person who documented the incident as a Jew, stood up and shouted, "No more genocide in my name." Another woman waved her hands, which were painted red. The people who documented the protest did it secretly using a cellular phone, as cameras were not allowed into the lecture, and posted the clip on YouTube.
As opposed to the disturbance at the Chicago speech, this time the guards appeared to have acted more firmly against the protestors. One of the demonstrators was even removed from the auditorium by policemen grabbing his arms and legs and carrying him out.
During the speech, one of the protestors screamed at Olmert, "A hospital has been destroyed," referring to the Israel Air Forces' air strikes in Gaza during the Gaza agression.
The former prime minister appeared calm throughout the disturbances, and didn't stop speaking despite the commotion.