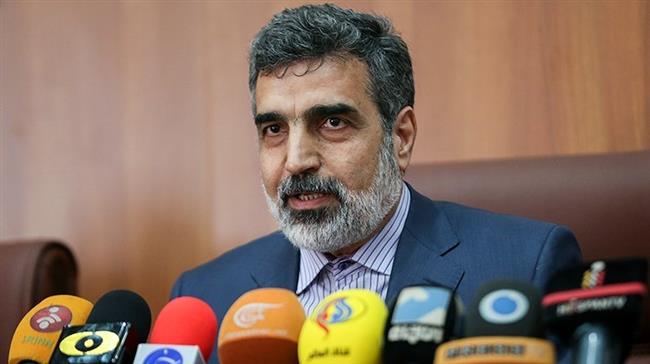 The spokesman of the Atomic Energy Organization of Iran (AEOI) says the latest round of US sanctions against Iran, which targets the country's nuclear chief Ali Akbar Salehi, only reflects desperation of the United States.
Speaking to Fars News Agency on Thursday, Behrouz Kamalvandi said putting Salehi's name on the list of persons subject to US sanctions against Iran, which was announced earlier in the day, has no practical value and proves desperation of the US in its faceoff with Iran.
He added that despite these sanctions, "Iran's nuclear program will continue with full force depending on the country's needs," noting that such futile efforts by Washington will have no impact on the Islamic Republic's resolve.
The US Treasury Department announced new sanctions on Salehi on Thursday, adding his name to the SDN (Specially Designated Nationals And Blocked Persons) List of the Office of Foreign Assets Control (OFAC).
Kamalvandi also reacted to remarks by Brian Hook, the US special representative for Iran, who has claimed that Washington has sanctioned the AEOI and its chief, because Iran had started new violations of its 2015 nuclear agreement with world powers.
Given its withdrawal from the deal and its breaking of promises it had made, the US "is in no position" to comment on the manner in which Iran adheres to its nuclear obligations, the spokesman concluded.
Washington left the historic accord, officially known as the Joint Comprehensive Plan of Action (JCPOA), in 2018, defying its multi-party nature and the fact that it has been ratified in the form of a United Nations Security Council resolution.
Last May, Iran began a set of nuclear countermeasures in retaliation for the United States' departure. The measures were also taken in return for the US's restoration of its nuclear-related bans against Iran, and failure by Britain, France, and Germany — three European signatories to the deal — to retain their business interactions with Iran despite the sanctions.
As part of the retaliatory steps, Iran stopped recognizing the limits set by the deal on the level of its uranium enrichment activities and the volume of its heavy water reservoir.
On January 5, the country said it would no longer observe any operational limitations on its nuclear industry, whether concerning the capacity and level of uranium enrichment, the volume of stockpiled uranium or research and development.
The decision came two days after a set of US drone strikes assassinated senior Iranian commander and the most revered anti-terror military figure in the Middle East, Lieutenant General Qassem Soleimani, in Baghdad.