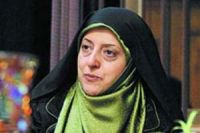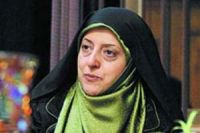 The Head of Iran's Environmental Protection Organization, Massoumeh Ebtekar, has said continuing Western sanctions against Iran are actually harmful to the environment in many regions of the world.
According to an IRIB report, Ebtekar, stressed that Western sanctions against Iran are not only harming the environment here in Iran, but also they are detrimental to the wider global environment, and this is one more reason why these sanctions are illegal and why they should be lifted.
Commenting further, Ebtekar pointed to "global warming and the changing climate of the world", and she stressed that a changing environment and a changing climate are truly global issues which concern the whole of the international community, and whatever harms Iran's environment is bound to be harmful to the global environment as well.
In further comments Massoumeh Ebtekar said Iran has experienced some difficultly in complying with international air quality and pollution standards, and these difficulties have arisen because of Western sanctions. She added: "In our oil industry we have managed to overcome or bypass many of the difficulties associated with sanctions".