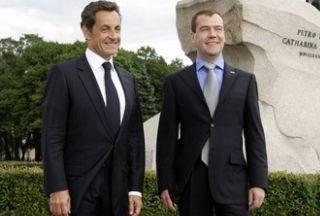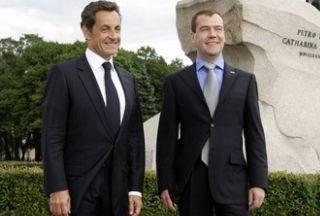 French President Nicolas Sarkozy has called for stronger ties between Europe and Russia, saying the two sides are "destined to be friends," and should become strategic partners.
"I have the conviction that Europe and Russia must work together in a strategic way, very closely, in a relationship of confidence," AFP quoted Sarkozy as saying in a keynote speech at the closing ceremony of the Saint Petersburg economic forum on Saturday.
"The Cold War is over. The Wall is finished. Russia is a great power, we are neighbors, we are destined to be friends; we must come closer to each other."
The French president said he had substituted his prepared speech by a more spontaneous lecture.
"For my trip to Saint Petersburg, for Dmitry, I thought it better to say what I think than what my administration thinks," he laughed.
The two leaders are expected to negotiate an impending French utility Gaz de France investment in the Russian-led South Stream pipeline to export gas from Russia to Europe through the Black Sea, AFP reported.
France is also seeking to discuss selling Russia hundreds of trains and negotiate the purchase of 10 Russian Soyuz rockets by its Arianespace.