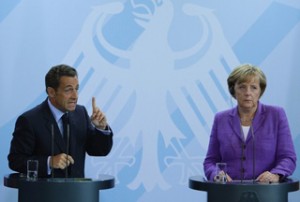 Iran says remarks made by the French and German leaders on Iran's nuclear issue show the influence of Israel's 'aggressive' stance on Paris and Berlin.
French President Nicolas Sarkozy and German Chancellor Angela Merkel repeated their calls for tougher sanctions against Iran in a Monday meeting in Berlin.
"We are sorry to see their [Merkel and Sarkozy's] remarks [on Iran's nuclear program], instead of being based on legal grounds, they [the remarks] show how under the influence of the aggressive policies of the Zionist leaders they are," Iranian Foreign Ministry spokesman Hassan Qashqavi said on Tuesday.
The veto-wielding members of the United Nations Security Council — Britain, China, France, Russia and the United States plus Germany (P5+1) — will discuss Iran's nuclear issue in a Wednesday meeting in the German city of Frankfurt.
Qashqavi slammed the remarks by the French and German leaders on Iran's nuclear issue as 'interference' in Iran's domestic affairs.
The Security Council has so far imposed three rounds of sanctions against Iran in a bid to bring Tehran's nuclear program to a halt.
Western powers claim Iran's uranium enrichment program is aimed at developing nuclear weapons.
Tehran, however, has denied seeking nuclear weaponry and has called for the removal of all weapons of mass destruction across the globe.
On Tuesday, Iran offered the P5+1 an updated nuclear package and announced its readiness to hold talks with the world powers on its nuclear program.