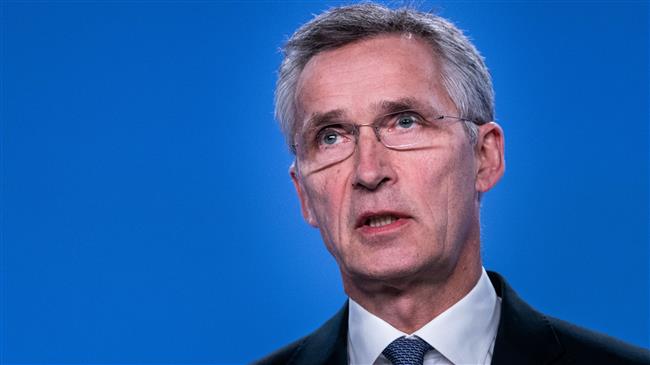 The Western military alliance of NATO is reportedly mulling over expanding its "training" mission in Iraq with the declared aim of taking some "burden" off a US-led coalition purportedly fighting Daesh in the Arab state.
Officials and diplomats made the remarks concerning the alliance's "train-and-advise" missions on Tuesday, Reuters reported.
NATO's Secretary-General Jens Stoltenberg said the alliance's defense ministers, including US Secretary of State Mark Esper, would discuss the future of the missions in the Middle East during a two-day meeting in Brussels that will start on Wednesday.
He said, "We (NATO allies) are discussing what more NATO can do (in Iraq) but again, before we have made any final decision, I think it's a bit early for me to announce those decisions but we will see what more we can do."
NATO and the US-led coalition paused such alleged training operations in Iraq after January 3 amid fears of an escalation of tensions between Iran and the US.
That day, a series of US-led airstrikes targeted Baghdad, assassinating Lieutenant General Qassem Soleimani, the former commander of the Quds Force of Iran's Islamic Revolution Guards Corps (IRGC), Abu Mahdi al-Muhandis, a senior Iraqi anti-terror commander, and a number of others. General Soleimani, who has earned reputation as the region's most decisive and popular anti-terror military figure, was on an official visit to the Iraqi capital during the air raids.
Days later, the IRGC conducted retaliatory ballistic missile strikes against the US's Ain al-Assad Airbase in the western Iraqi Anbar Province, and another American outpost in Iraq's semi-autonomous Kurdistan region.
Also on Tuesday, US officials admitted that the number of US troops suffering from traumatic brain injuries (TBI) after the retaliation had risen to 109.
US Ambassador to NATO Kay Bailey Hutchison, meanwhile, welcomed the prospect of expansion in NATO's missions, saying, "It's part of burden-sharing."
It was not clear, however, whether the decision by the alliance to consider relieving some of the US-led coalition's "burden" had anything to do with the far-and-wide resentment that has been incurred among Iraqi political and social spheres since the deadly airstrikes.
The assassinations were followed by monumental funeral processions across the Arab country, and a "million-man" march against American presence, which had been called by influential cleric Muqtada al-Sadr.
Iraq's Sadr urges million-man march against US military presenceInfluential Shia cleric Sadr, who heads the largest parliamentary bloc in Iraq, calls for a 'million-strong march' against continued US military presence on Iraqi soil.
The Iraqi parliament also voted overwhelmingly in favor of a bill calling for the expulsion of all US-led forces and former caretaker prime minister Adel Abdul-Mahdi asked Washington to cooperate towards the enabling the withdrawal.
Iraqi lawmakers approve bill to expel US forces from countryThe lawmakers, in line with their national and regulatory responsibilities, singed the four-point draft.
The coalition began its work in Iraq in 2014. It has sustained a presence there although Baghdad and its allies defeated Daesh in late 2017.