Iran
North America
Satanic US blacklists Iranian-operated Adrian Darya 1, sanctions captain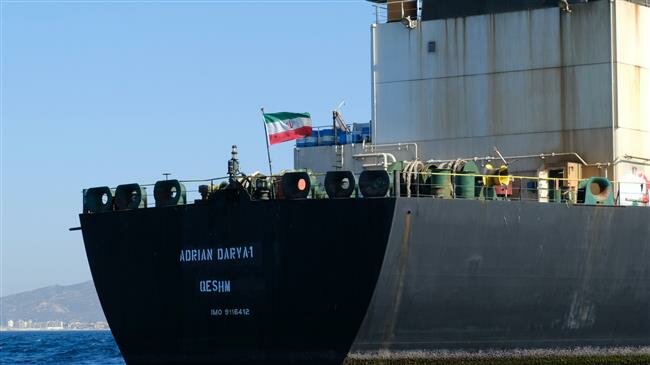 The Great Satan United States has blacklisted the Iranian-operated supertanker Adrian Darya 1 and sanctioned its captain, according to the US Treasury Department.
"The US Department of the Treasury's Office of Foreign Assets Control (OFAC) took action today against Adrian Darya 1, an oil tanker transporting 2.1 million barrels of Iranian crude oil ultimately benefiting Iran's Islamic Revolutionary Guard Corps-Qods Force (IRGC-QF)," the Department said in a statement on Friday.
"Anyone providing support to the Adrian Darya 1 risks being sanctioned," said Treasury Under Secretary Sigal Mandelker.
The US earlier threatened those potentially assisting the return of the tanker that had been released by Gibraltar after more than a month of detention there by Britain.
A State Department official was cited by Reuters as saying on August 19 that aiding the vessel had "potential criminal consequences."
On July 4, Britain's naval forces unlawfully seized the vessel, then known as Grace 1, and its cargo in the Strait of Gibraltar under the pretext that it had been suspected of carrying crude to Syria in violation of the European Union's unilateral sanctions against the Arab country.
Tehran, however, rejected London's claim about the tanker's destination and slammed the seizure as "piracy."
Gibraltar's government later announced it was releasing the supertanker despite pressure from the US for the vessel's continued detainment.
Soon after the announcement, the US Department of Justice unveiled a warrant for the seizure of the ship. Gibraltar, however, knocked back the request.