Middle East
North America
Syria
Satanic US forces transfer Daesh families from Syria to Iraq: SANA
US military forces have transported to safe sanctuaries hundreds of family members of the Daesh Takfiri terrorists from Syria's northeastern province of Hasakah to neighboring Iraq over the past 24 hours, a local media report says.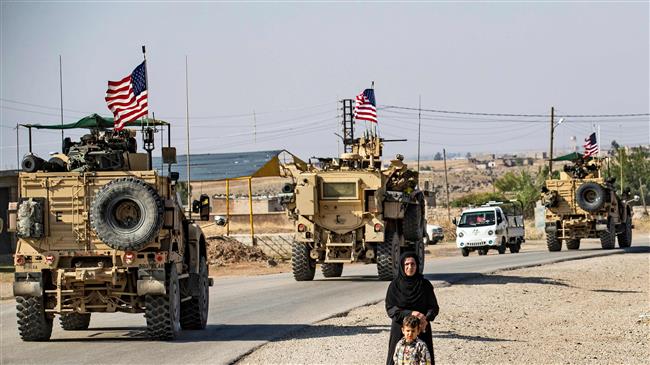 Syria's official news agency SANA, citing local sources, reported on Thursday that American forces transported more than 600 children and women of the Daesh terrorists to an unknown location.
The Daesh members were being kept at al-Hol refugee camp, which lies close to the Syria-Iraq border and is run by the Kurdish-dominated SDF militants.
The report said five military vehicles and about 30 US soldiers entered from Iraq to the Syrian Hasaka Province as they positioned in the illegitimate airport of Khrab al-Jeer.
In recent months, US forces have transported hundreds of Daesh extremists and their relatives from Syrian territories to Iraq in a number of batches.
In addition, US forces have until recently been airlifting Daesh terrorists from one place in Syria to another, under the cover of darkness, in order to save them in the face of advancement and territorial gains by Syrian government forces, and prevent revelation of their alliance with the Takfiri extremists.
US using ex-Daesh militants to hold onto Syrian oilThe US is using ex-Daesh militants to hold onto Syrian oil.
Turkey and its allied militants have launched a ground offensive against Kurdish forces in northeastern Syria.
Elsewhere in the report, SANA said a convoy of military vehicles of the Turkish forces entered the northern countryside of al-Hasakah from the key border town of Ra's al-Ayn. The convoy included three tanks, five military jeeps, four soldier carriers and four armored vehicles.
Turkish forces and Ankara-backed fighters have reportedly turned many schools, public facilities and cultural into military headquarters in the troubled region.
Last month, media reports said that Turkish army troops had begun setting up a military base in Hasakah, weeks after they launched a cross-border incursion, backed by allied militants, against members of the Kurdish People's Protection Units (YPG).
On October 9, Turkish military forces and Ankara-backed militants launched a long-threatened cross-border invasion of northeastern Syria in a declared attempt to push YPG militants from border areas.
Ankara views the US-backed YPG as a terrorist organization tied to the homegrown Kurdistan Workers' Party (PKK), which has been seeking an autonomous Kurdish region in Turkey since 1984. The YPG constitutes the backbone of the SDF militant group.
Turkish forces begin to establish base in northern Syria weeks after incursionTurkish forces begin setting up a military base in al-Hawas village in Syria's northeastern province of Hasakah.
On October 22, Russian President Vladimir Putin and his Turkish counterpart Recep Tayyip Erdogan signed a memorandum of understanding that asserted YPG militants must withdraw from the Turkish-controlled "safe zone" in northeastern Syria within 150 hours, after which Ankara and Moscow would run joint patrols around the area.
The announcement was made hours before a US-brokered five-day truce between Turkish and Kurdish-led forces was due to expire.