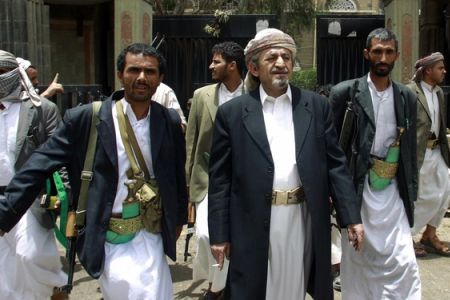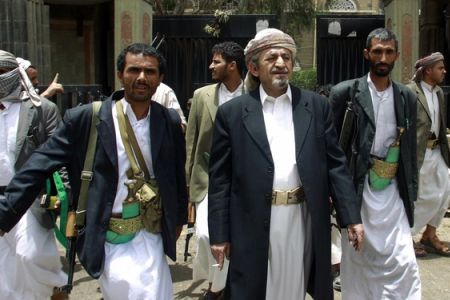 A Yemeni political analyst has warned against a Saudi Arabian plot to deflect Yemen's revolution, as clashes between tribesmen and pro-government supporters gain steam.
"Saudi Arabia is making every effort to wage a civil war in Yemen with the aim of diverting the country's revolution," said Naif Alsharabi, a member of the founding board of Yemen's public committees, in a Thursday interview with Iran's Arabic-language news channel al-Alam.
Alsharabi added that Saudi Arabia and the United States are conspiring to support Yemen's embattled President Ali Abdullah Saleh and avert his ouster.
He pointed out that Yemen's revolution comes as a blow to the United Sates and called for the continuation of public protests until the downfall of the regime.
Earlier on Thursday, Yemeni aviation sources reported that clashes in the Arhad district, north of Yemen's main international airport, have disrupted flights.
According to tribal sources, at least 12 members of Yemen's Republican Guard were among the casualties.
Saleh ordered the detention of Sheikh Sadeq al-Ahmar, a son of the late leader of the Hashid tribe, and his nine brothers on Thursday, according to Yemen's defense ministry.
Sheikh Sadeq al-Ahmar succeeded his father, Sheikh Abdullah bin Hussein al-Ahmar, after he died in 2007.
The clashes in the Yemeni capital have left more than 70 people dead since Monday, when the violence escalated after Saleh refused to sign a power transition deal brokered by the [Persian] Gulf Cooperation Council ([P]GCC).
Saleh also stated on Wednesday that he is prepared to escalate the campaign against anti-regime tribesmen that have called for his immediate ouster.
Hundreds of anti-government protesters have been killed and many others injured during clashes with riot police and armed individuals loyal to the Yemeni president since the anti-regime demonstrations began in late January, according to local reports.