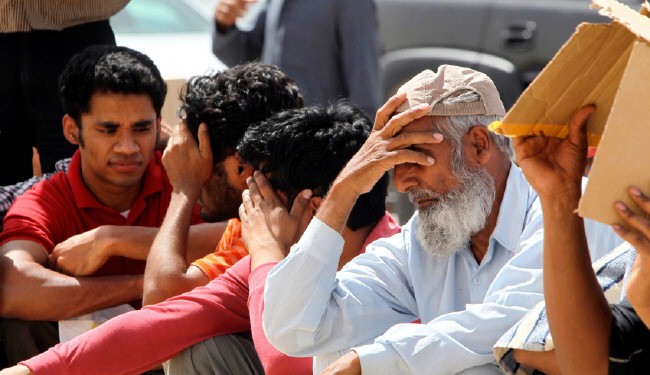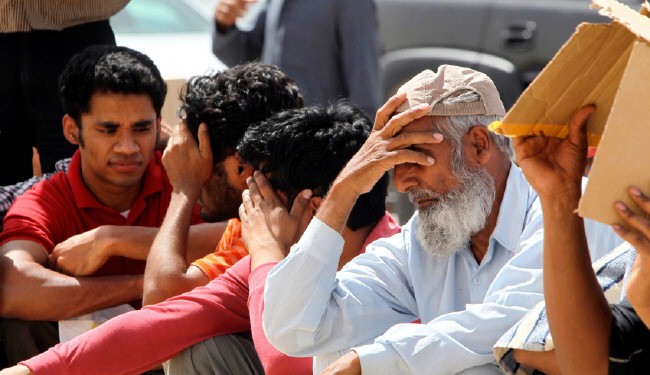 Saudi Arabia has deported 71,118 "illegal" foreigners since its crackdown on migrant workers began on November 4, according to latest figures from the kingdom's Passport Directorate.
This total is likely to continue increasing because of delays in processing deportations since many of the arrested migrants do not have identity documents.
Before carrying out deportations the authorities are also checking criminal records and taking biometric details in case the migrants attempt to return.
Arab News reports that almost 300,000 Egyptians have returned home since the beginning of July and the number of Egyptians in the kingdom has now fallen below one million.
Remittances by Egyptian workers so far this year total only 1 billion Saudi riyals ($267m) – a huge drop from 6 billion riyals in 2010.
In Yemen, officials are expecting the total of Yemeni returnees from Saudi Arabia to reach 210,000. Some 130,000 returned during the initial crackdown last March (and the subsequent "grace" period), with a further 80,000 expected during the current crackdown.
Meanwhile, the campaign to round up "illegal" workers in Saudi Arabia appears to be losing steam – at least in some places.
Street vendors in Jeddah, who went into hiding when the crackdown began on November 4, have now returned in force and are "moving freely in the markets of the historical area selling fruit and vegetables at cheap prices", according to the Saudi Gazette.
In other parts of the kingdom raids are continuing and perhaps even being stepped up:
"The central region of Qassim in particular, a province that houses a significant number of visa violators, is witnessing intensified labour raid campaigns, where thousands have been arrested.
"Police units continue their investigation in the province to nab violators who had failed to legalese their status during the seven-month grace period …
Villages, including small hamlets, have been subject to police inspection.
Arab News spoke with numerous residents in Buraidah, who said that inspections are being carried out on the region's roads and also in major market areas in the city.
"Iqbal Pullimukku, a prominent Indian social worker, told Arab News that inspection campaigns are being conducted by police personnel up to three or four times a day in some market areas."
The crackdown also caused many shops to close – probably permanently – and some Saudis are now complaining about losing possessions. The Saudi Gazette reports on a man who left a computer for repair and is unable to retrieve it, and a women whose dresses are in a shut-down clothing shop.
In Makkah, expatriate hospital cleaners went on strike for the second time in a fortnight, claiming that the company which employs them has reneged on an agreement to increase their wages from 400 riyals ($107) to 700 riyals.
This highlights one of the major problems with the kingdom's sponsorship system for foreign workers. Previously, the cleaners were able to supplement their pitiful salaries by doing unofficial part-time work.
As a result of crackdown they are no longer able to do that – hence the demand for a large pay increase.