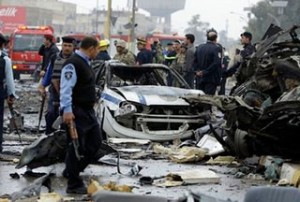 Senior military officials in Iraq are pointing their fingers at Saudi Arabia over the recent bomb attacks in Baghdad which claimed scores of lives.
The head of the ordnance department of Iraq's Interior Ministry said the terrorists behind the deadly attacks had used explosives that came from other countries like Saudi Arabia.
The Iraqi government is well aware that the vehicle used in the bombing was carrying 850 kilograms of explosives, an amount which cannot have been produced inside Iraq, said Major Gen. Jihad al-Jabiri.
"It must have come from abroad," he stressed.
In a televised speech on Wednesday, Prime Minster Nouri al-Maliki, said the terrorists had infiltrated Iraq using the support and financial backing of a neighboring country.
The Iraqi premier did not mention any specific country, but informed sources believe he was referring to Saudi Arabia.
At least 127 people were killed and many others wounded in a series of coordinated bomb blasts that struck the Iraqi capital on Tuesday.
Baghdad's security chief Lieut. Gen. Abboud Qanbar was sacked following sharp criticism of Iraqi MPs who demanded an explanation from the country's leaders over Tuesday's blasts.
Maliki and his interior minister, Jawad al-Bulani, are also to appear before a special parliamentary session on Thursday to explain how the attacks jeopardized security in the heavily guarded central Baghdad.