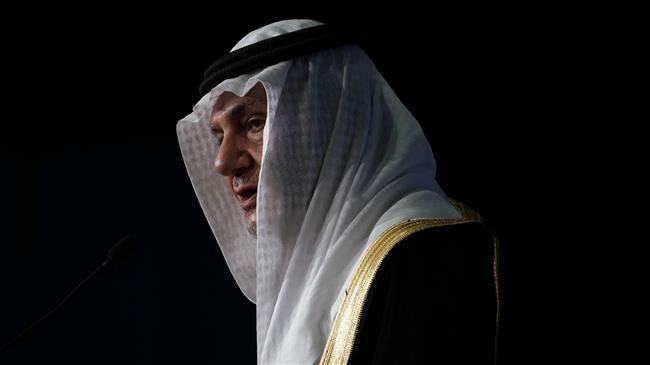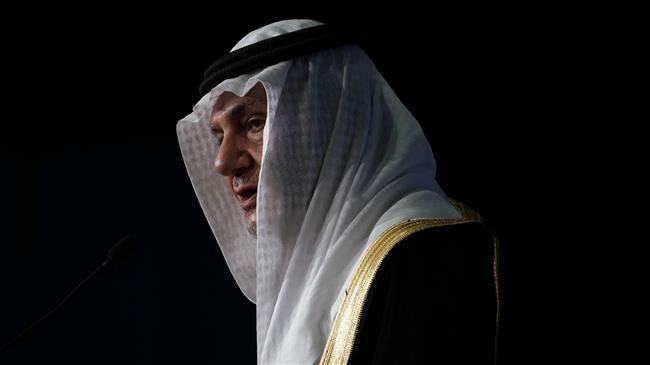 Saudi Arabia and Israel have the money and political means to forge a powerful alliance provided that they reach peace first, a senior Saudi prince has suggested, criticizing Israeli officials for ignoring Riyadh's peace initiatives.
In a rare interview with an Israeli television network on Wednesday, former Saudi intelligence chief Prince Turki bun Faisal al-Saud said Israeli Prime Minister Benjamin Netanyahu should accept terms that Saudi Arabia has put forward for a lasting peace.
"With Israeli money and Saudi brains, we can go far," the prince said, but added, "Yes, if there is peace. Unfortunately."
"Israel chooses to ignore all the efforts of Saudi Arabia to make peace, and expects Saudi Arabia to put its hand in its [Israel's] hand and go forward on technology, on water desalination, on issues like that. It's not going to happen," the veteran diplomat added.
The prince said the so-called Arab Peace Initiative, first offered by late Saudi King Abdullah in 2002, raised the chances of public and official ties between Arab regimes and Israel.
Closest allies to USA are brutal, anti-human rights = Israel and Saudi Arabia. Show me who your friends are, US and UK, and it shows me what you are!

— libbyliberal (@libbyliberalnyc) February 14, 2019
"Basically it's a quid pro quo: Israel withdraws from occupied Arab territories, in return for Arab recognition of Israel, end of hostilities and normal relations," Faisal said, doubting that Riyadh and Tel Aviv could reach an agreement during his lifetime.
The 73-year-old said he had been to Jerusalem al-Quds and would love to visit the city if Netanyahu and Saudi Crown Prince Mohammed bin Salman sit down for negotiations after resolving the Palestinian-Israeli conflict.
"In my lifetime — and there's very little of it left to come — I don't think I'm going to see that. Not before the Palestinian issue is resolved. I am looking for an Israeli peace initiative. I haven't seen one. What is it that Israel thinks will make peace?"
He accused Netanyahu of trying to appeal to voters by claiming that ties with the Arab world could be warmed without resolving the Palestinian-Israeli conflict.
Turki dismissed as "wishful thinking" what some media reports had claimed about possible division between bin Salman and his father on the issue.
The crown prince "supports the Palestinian cause to the fullest," he said, adding MbS had no differences with his father "on any issue. He does what the king tells him."
It is no secret that Israel and Saudi Arabia have long been working quietly over security issues and have already established a mutual understanding to respect their regional interests.
In October 2017, former Israeli spymaster Efraim Halevy, who led Israel's Mossad at the turn of the century, sat down for a meeting with Turki bin Faisal, who headed Saudi Arabia's intelligence agency for 24 years.
More recently, Netanyahu said on the sidelines of a US-organized conference against Iran in Warsaw, Poland that the event "is an open meeting with representatives of leading Arab countries, that are sitting down together with Israel in order to advance the common interest of war with Iran."
The remarks proved costly for Tel Aviv as Israeli officials, including the PM himself, rushed to explain that by war they did not mean direct military conflict.
Bahrain: Arab world, Israel ties to be normalized 'eventually'
At the opening dinner of the anti-Iran summit at Warsaw's Royal Castle on Wednesday night, Netanyahu said he was delighted to be addressing high delegations from Saudi Arabia, the United Arab Emirates and Bahrain — the three key Arab allies that don't recognize Israel officially despite having established secret ties with the regime.
Bahraini Foreign Minister Khalid bin Ahmed al-Khalifah told Israeli media on the sidelines of the anti-Iran meeting that his country would "eventually" establish diplomatic ties with Israel.
His remarks came days after Israeli media reported that Manama had volunteered to open a diplomatic mission in Tel Aviv in 2017 before changing its mind.
Netanyahu's secret tape of Warsaw meeting
On Thursday, Netanyahu released a video of a closed meeting in Warsaw, in which senior officials from Arab regimes of the Persian Gulf region, including the Bahraini FM, play down the Palestinian cause and describe Iran as the greatest threat in the Middle East.
"We grew up talking about the Palestine-Israel dispute as the most important issue," al-Khalifah says in the video, according to the Associated Press. "But then at a later stage, we saw a bigger challenge. We saw a more toxic one, in fact the most toxic in our modern history, which came from the Islamic Republic, from Iran."
In the video, Saudi and Emirati officials can also be seen making a number of anti-Iran allegations.
The 25-minute clip, recorded on a mobile device, was shown to a group of journalists traveling with Netanyahu before it was taken down on YouTube. It was not clear whether the video was intentionally leaked or accidentally uploaded.