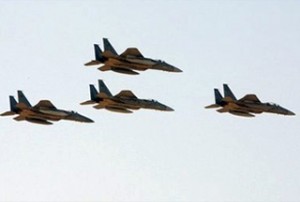 Saudi fighter jets keep bombing Houthi positions in northern Yemen along the border the country shares with the oil-rich kingdom, killing more than a dozen people.
According to a statement released by the fighters on Monday, Saudi forces carried out 17 aerial attacks on Dammaj, destroying a mosque in the northern region.
The warplanes also bombarded Muhazat, Wadi'a, Sha'af, Jebel Razih, al-Malaheet districts as well as the rugged villages in close proximity to the border regions of northern Yemen.
Several homes were demolished while more than a dozen died in the strikes, the statement added.
During the operation, Saudi forces reportedly fired some 450 rockets against the beleaguered areas of Jebel al-Dukhan, Jebel al-Madood, Marwi, Shada, Qamamat, al-Safih as well as al-Jabiri, some 600 miles (966 kilometers) from the Saudi capital, Riyadh.
The conflict in northern Yemen began in 2004 between Sana'a and the Houthi fighters. It intensified in August 2009 when the Yemeni army launched 'Operation Scorched Earth' in an attempt to crush the fighters in the northern province of Sa'ada.
The Houthis accuse the Yemeni government of violating of their civil liberties, political, economic and religious marginalization as well as large-scale corruption.
Saudi forces began fighting with Yemeni Shia resistance fighters, known as Houthis, and bombing their positions on November 4th after accusing the fighters of killing Saudi border guards.
Houthi fighters say that Saudi forces continually strike Yemeni villages and indiscriminately target civilians. According to the fighters, the Saudis use banned toxic materials, including white phosphorus bombs, indiscriminately in northern Yemen.
The US military also has been involved in bombing Yemen's northern regions of Amran, Hajjah and Sa'ada, according to Houthi fighters.
The UN High Commissioner for Refugees estimates that since 2004, up to 175,000 people have been forced to leave their homes in Sa'ada and take refuge at overcrowded camps set up by the United Nations.