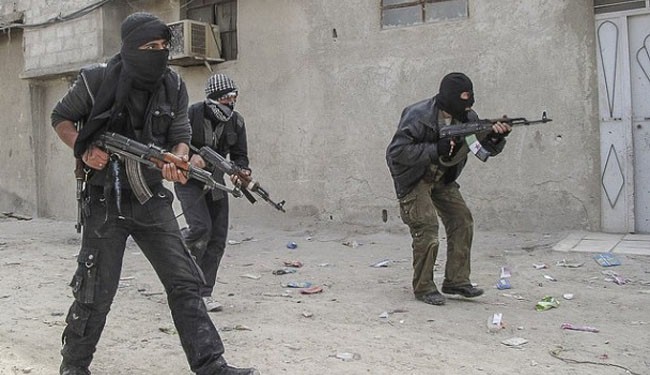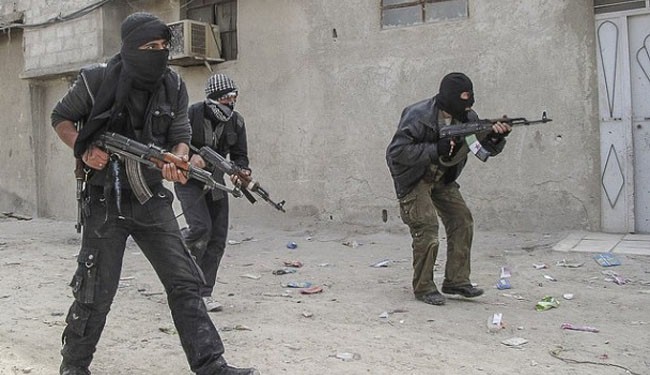 Several terrorists from Saudi Arabia, Jordan and Tunisia have been killed in latest army operations in different parts of Syria.
Ringleaders of the terrorist group of Liwa al-Tawhid Brigade, including Tunisian, Jordanian and Saudi extremists, have been killed in outskirts of Dara'a, al-Alam reported on Sunday.
Syria's armed forces clashed with armed terrorists in four districts of Deir Ezzor, killing many foreign-backed militants and hunting several others.
According to our reporter, Monir Ilyas al-Hajr, a ringleader of the terrorist group of Jabhat al-Nusra Front, was killed in Deir Ezzor on Saturday.
The Syrian troops have also raided terrorists' hideout in Dara'a, killing a terrorist mastermind, Mohamed Ahmed al-Laham, while confiscating some rockets and launchers.
Scores of foreign-backed militants have been gunned down after they attacked a police checkpoint in southern neighborhood of Dara'a.
Mohamed Yunis al-Taba, another terrorist ringleader, and some other militants were also killed during operations in Duma of Rif Dimashq Governorate.
The war in Syria started in March 2011, when pro-reform protests turned into a massive insurgency following the intervention of Western and regional states.
The unrest, which took in terrorist groups from across Europe, the Middle East and North Africa, has transpired as one of the bloodiest conflicts in recent history.
As the foreign-backed insurgency in Syria continues without an end in sight, the US government has boosted its political and military support to Takfiri extremists.