General
Saudi king stops in Cairo to reaffirm support for Sisi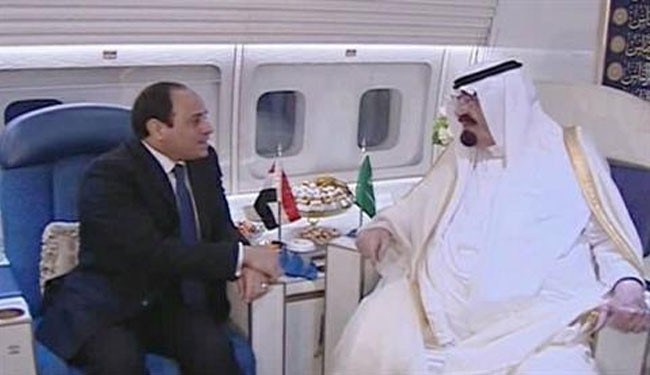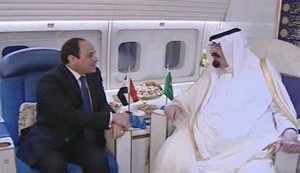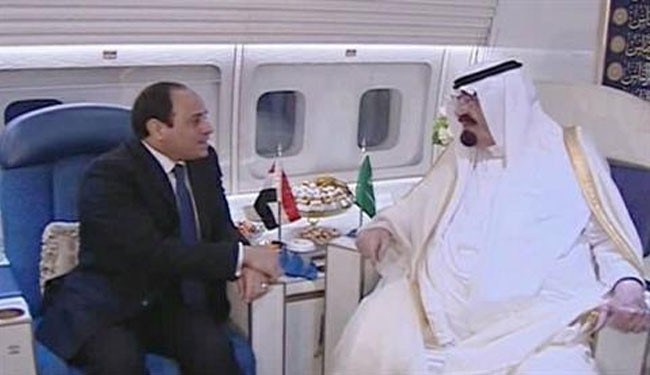 Saudi Arabia's King Abdullah has made a stop in Egyptian capital of Cairo to meet with the country's new President and ex-army chief Abdel-Fattah al-Sisi to express his strong support for Egypt's controversial head of state through a symbolic but brief visit.
The 90-year-old monarch, who stopped in Cairo on his way home from Morocco on Friday, did not leave his aircraft, which was on the ground at the airport for just over an hour, according to press reports. Instead, Sisi and his accompanying delegation went on board to me with the Saudi ruler for just over 30 minutes.
Abdullah's advanced age and frail health mean he rarely travels on state business, so even the short visit was a clear sign of how he has positioned himself as Sisi's leading Arab ally.
Egypt's official news agency reported that the talks covered the importance of the two nations working together to address regional challenges, a sign of how the Gulf monarchy sees Cairo as "a crucial partner against the rapid rise of Islamism."
Through phone calls to Sisi, donations of cash and oil products, supportive statements and his visit to Cairo, Abdullah has made clear his approval for the presidency of Egypt's former military strongman that engineered the overthrow of the country's first freely-elected president Mohamed Morsi in July 2013.
Abdullah is the first foreign leader to visit Sisi since he took office less than two weeks ago to a cooler reception from some Western governments concerned by a brutal crackdown on dissent.
Saudi Arabia, the world's top oil exporter, and its wealthy Persian Gulf Arab partners Kuwait and the United Arab Emirates, have given more than $20 billion to help Egypt since Sisi ousted Morsi last July, and are likely to pledge more.
Local observers believe the Saudi regime wants Egypt to be a bulwark against any Islamic movements as foreign-backed conflicts rage in Iraq and Syria that could alter regional alliances and national borders.
Egypt's state news agency MENA reported Friday that the talks between the Abdullah and Sisi covered Iraq, Syria and Libya; and "the importance of coordination and joint action between the two countries to meet the challenges prevailing in the region."
Sisi has not spoken publicly about the Iraq crisis since it erupted days after his inauguration.
Iraq's Prime Minister Nouri al-Maliki, meanwhile, has repeatedly identified Saudi Kingdom and Qatar and major sponsor of the growing terrorist campaign across Iraq.
No further announcements about the Saudi-led financial support of Egypt immediately emerged from the Friday meeting. Sisi thanked the king for his support to date support and for his initiative in organizing a donor conference to "provide necessary support in the coming period," MENA reported.
The conference was announced by Abdullah 15 minutes after Sisi was declared president. A date has not yet been set.
The Egyptian delegation included Prime Minister Ibrahim Mahlab and the defense and finance ministers.
Abdullah was accompanied by the Saudi foreign affairs and finance ministers as well as security officials and former intelligence chief Prince Bandar bin Sultan, Al-Arabiya television reported.
Sisi served as defense attache in Riyadh during former President Hosni Mubarak's rule before eventually rising to head up military intelligence, his last job under Mubarak.