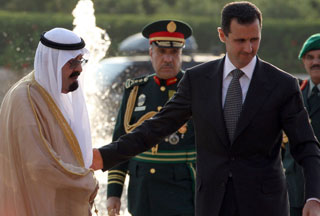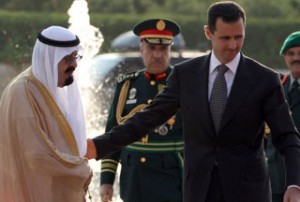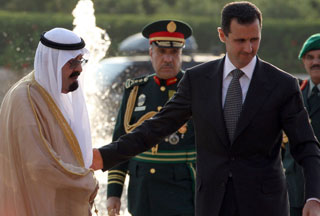 Saudi Arabia's King Abdullah has arrived in Syria in a further sign of warming relations between the two Arab countries.
The Saudi monarch was greeted by Syrian President Bashar al-Assad at Damascus airport on Wednesday, on his first visit to the country since acceding to the throne in 2005.
Saudi Arabia's Finance Minister Ibrahim al-Assaf, Labour Minister Ghazi al-Gosaibi, Culture and Information Minister Abdul Aziz Khoja and other members of the Saudi royal family are accompanying King Abdullah on his two-day visit.
The two leaders are expected to discuss political and economic bilateral relations as well as regional topics, including the Palestinian-Israeli conflict.
The trip described by analysts as a "significant development in inter-Arab relations", confirms the improving ties between Syria and Saudi Arabia. The two Arab states severed ties over differences on a number of issues, including the Iraq war.
"Good relations between Saudi Arabia and Syria will help ease other tensions within the Arab world", Mansur al-Mansur, head of the Center for Strategic Studies in Riyadh, said.
Damascus-Riyadh relations deteriorated in 2003 following the Saudi support for the US-led invasion of Iraq. Their relations soured further after the assassination of former Lebanese Prime Minister Rafik Hariri in 2005.
Riyadh engaged into Lebanese political affairs following Hariri's murder, and supported anti-Syrian political groups.
Assad and Abdullah have met several times in regional forums, but Tuesday's visit marks the first official meeting between the two leaders since Abdullah became king.