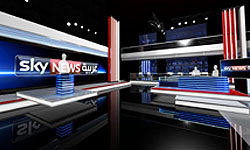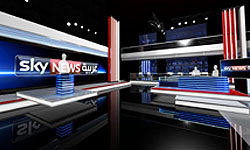 Saudi police arrested correspondent of the British Channel, Sky News, after he attended the trail of two human right activists in Riyadh.
When Sky News correspondent left the courtroom to film a report, a policeman arrested him and the cameraman and they were transferred to a police station, Global Voices reported.
They were asked to provide a governmental license to report the public trial, even though they were already licensed journalists.
They were released after a few hours after signing a pledge that they will not film within the court building, even though they had not done such a thing.
The last hearing session of one of Saudi Arabia's rare public trials of two prominent human rights activists Mohammad Al-Qahtani and Abdullah Al-Hamid was held Dec 29 at the Riyadh Criminal Court.
Since February 2011, protesters have held demonstrations on an almost regular basis in the Kingdom's East, mainly in Qatif and Awamiyah, calling for the release of all political prisoners, freedom of expression and assembly, and an end to widespread discrimination.
However, the demonstrations have turned into protests against the repressive al-Saud regime, especially since November 2011, when Saudi security forces killed five protesters and injured many others in the oil-rich region.
Saudi forces have also arrested more than 700 people, including prominent Shiite cleric Sheikh Nemr al-Nemr.