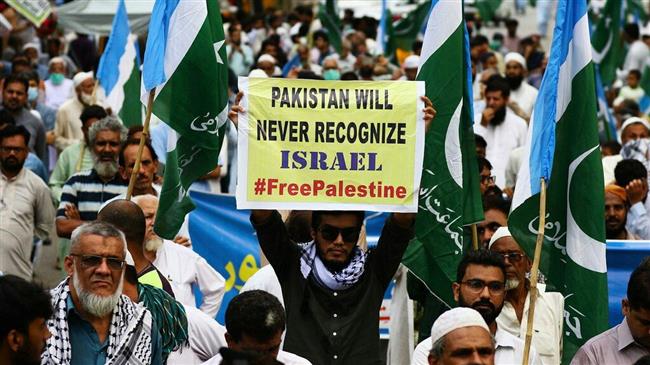 Pakistani has roundly dismissed media speculation that the South Asian country would recognize Israel, following reports of a meeting between Israeli Prime Minister Benjamin Netanyahu and Saudi Crown Prince Mohammed bin Salman.
The Pakistani Ministry of Foreign Affairs Spokesman Zahid Hafeez Chaudhri emphasized in a statement on Tuesday that Islamabad will not establish relations with the Tel Aviv regime until there is "a viable, independent and contiguous" Palestinian state acceptable to the Palestinians.
Chaudhri noted that Pakistan "steadfastly supports the Palestinian people's inalienable right to self-determination."
He went on to say that Pakistani Prime Minister Imran Khan's recent statement on the matter has been "clear and unequivocal."
"The prime minister has made it clear that unless a just settlement of the Palestine issue, satisfactory to the Palestinian people, is found, Pakistan cannot recognize Israel," the diplomat said.
"For just and lasting peace, it is imperative to have a two-state solution in accordance with the relevant United Nations and OIC (Organization of Islamic Cooperation) resolutions, with the pre-1967 borders, and al-Quds al-Sharif as the capital of a viable, independent and contiguous Palestinian State," Chaudhri added.
A member of Netanyahu's cabinet and Likud party on Monday confirmed reports that Netanyahu flew to Saudi Arabia for a clandestine meeting with the kingdom's de facto ruler and US Secretary of State Mike Pompeo.
Earlier in the day, Israel's Kan public radio and Army Radio said Mossad chief Yossi Cohen also attended the meeting.
Sunday's meeting marked the first known encounter between senior Israeli and Saudi officials, amid attempts by Pompeo to coax the Riyadh regime to follow its neighbors, the United Arab Emirates (UAE) and Bahrain, in establishing formal diplomatic relations with Israel.
Islamabad has a traditionally close partnership with the Riyadh regime and receives crucial financial assistance and oil supplies from the kingdom.
Reports of the secret meeting between bin Salman and Israeli officials have given rise to speculation that Pakistan would join the UAE, Bahrain and Sudan in agreeing to normalize relations with Israel under Saudi pressure.