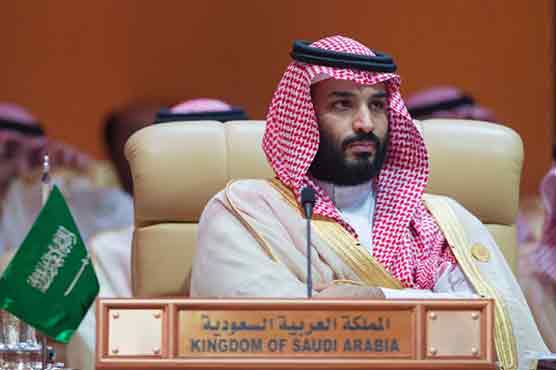 Saudi Arabia is planning to adopt what it calls 'strict' measures in an effort to prevent the coronavirus pandemic from further affecting its oil-driven economy that has already been battered by historically low crude prices.
In an interview with Saudi-owned al-Arabiya TV on Saturday, Saudi Finance Minister Mohammed al-Jadaan said that the kingdom was pondering "all options for dealing with the crisis."
"We must reduce budget expenditures sharply," he said, adding Saudi Arabia was expecting to witness the impact of the outbreak on its finances from the second quarter of the year.
Stating that Saudi Arabia had used some revenue from investments to plug the deficit, the minister said, "Saudi finances need more discipline and the road ahead is long."
According to the minister, one measure would be to reduce spending by slowing down the government's mega-projects.
The world's biggest oil exporter is suffering from unprecedented low oil prices, while measures to fight COVID-19 are likely to curb the pace and scale of economic reforms launched by Crown Price Mohammed bin Salman.
The Saudi central bank's foreign exchange reserves fell in March at their fastest rate in at least 20 years, hitting their lowest level since 2011, while the kingdom slipped to a $9 billion budget deficit in the first quarter as oil revenues collapsed.
Jadaan said last month that Riyadh could borrow around $26 billion more this year and would draw down up to $32 billion from its reserves to finance the deficit.
Saudi Arabia isolates industrial area
Meanwhile, the kingdom has isolated an industrial area in the eastern city of Dammam from Sunday until further notice, preventing all entry and exit, to curtail the spread of the disease, according to Saudi state news agency SPA.
Citing an Interior Ministry official, the agency said that freight shipments would be conducted via Dammam Second Industrial City.
The decision allows vital factories to operate at one third of their capacity, it added.
A number of Persian Gulf states have implemented lockdowns in parts of cities where large numbers of low-paid, mostly foreign, workers work and live in close proximity.
Alarm sounded as Yemen confirms 3 new infections
Meanwhile, Yemen which is subjected to heavy air raids carried out by a Saudi-led military coalition, has reported three new coronavirus cases, two in the city of Aden and one in Ta'izz province.
That brings the total number of infections to 10 with two deaths, according to Yemen's national emergency coronavirus committee
The governor of Ta'izz on Saturday announced that he was closing the province's borders for two weeks, with the exception of supplies of food and other essential goods, in order to prevent the virus from spreading.
On April 10, Yemen reported its first case of infection with the novel coronavirus in the oil-producing southern Hadhramaut province that is controlled by Saudi-sponsored militiamen loyal to the country's former president Abd Rabbuh Mansur Hadi.
On Wednesday, it announced five infections in Aden, with two deaths.
The United Nations says it fears that the COVID-19 disease caused by the virus could be spreading undetected among an acutely malnourished population with inadequate testing capabilities.
Saudi Arabia and a number of its regional allies launched the devastating war on Yemen in March 2015 in order to bring Hadi back to power and defeat the Houthi Ansarullah movement.
More than half of Yemen's hospitals and clinics have been destroyed or closed as a result of the war.
The US-based Armed Conflict Location and Event Data Project, a nonprofit conflict-research organization, says the military aggression has claimed an estimated 100,000 lives over the past five years.