Middle East
Saudi Arabia
Yemen
Saudi Regime's airports come under fresh retaliatory raids by Yemen Hezbollah
Yemen's Houthi Ansarullah forces have carried out fresh retaliatory strikes against military sites in Saudi Arabia's Abha and Jizan airports after bypassing the kingdom's air defenses.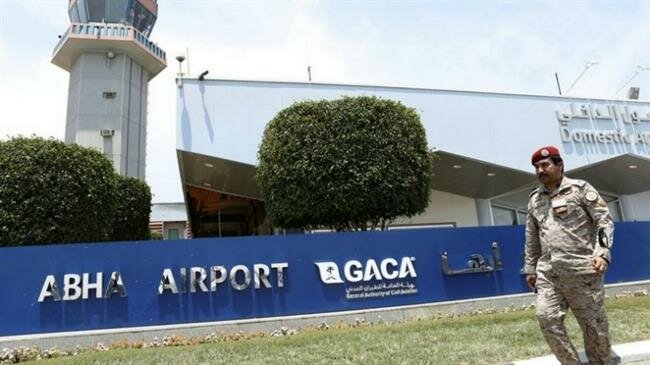 During the attacks on Thursday night, drones operated by the Yemeni resistance forces once again targeted aircraft hangars and other military positions inside the airports, which have become a regular target for Yemen's retaliatory attacks.
According to a report by Yemen's al-Masirah TV network, the attacks disrupted air traffic and delayed at least four flights in Abha.
Saudi media only confirmed the attacks on Jizan airport and quoted military commanders as saying that the drones had been intercepted without elaborating.
The intensified drone attacks over the past months have proven an effective response to the years-long deadly war waged by Saudi Arabia and its regional allies, including the United Arab Emirates, against the impoverished country.
Tens of thousands of people have been killed since Saudis launched the illegal campaign in March 2015 to drive Houthis out of the capital Sana'a and to restore power to a fugitive president.
The Saudi war, which is propped up by a number of Arab allies and enjoys support from Western governments, have also left hundreds of thousands of Yemenis in dire need of humanitarian assistance.
The Thursday attacks come after the Houthis pledged a firm response to Saudi airstrikes earlier this week that targeted two residential houses in the southern province of Ta'izz, killing eight members of a family.
Yemen vows 'strong response' to Saudi crime in Ta'izzA Yemeni Foreign Ministry official has condemned Saudi Arabia's recent bombing of Ta'izz Province, vowing a "strong response" to the deadly crime.
For long, Yemenis relied on domestically-developed missiles to respond to the Saudi-led aggression.
That strategy worked well on many instances, as they were able to hit targets deep inside Saudi territories, including the international airport in Riyadh, which is some 800 kilometers away from Yemen's northernmost parts.
To reach such targets, the missiles had to bypass layered air defenses that have US-made Patriot missile systems as their backbone.
Drones have opened a new chapter in the war, allowing Yemeni resistance forces to carry out even more precise attacks at much lower costs.
Using the domestic Qasef-2K design, Yemeni forces have been able to deliver devastating blows to various targets across Saudi Arabia.
The one attack that stood out, however, took place in May, when the Houthis targeted two oil pumping stations near Riyadh, forcing Saudi authorities to stop oil flow in one of the country's main pipelines.
Yemeni forces say they have put together a list of more than 300 vital targets across Saudi Arabia, the UAE and Yemeni and will target them with their drones should the Saudi-led aggression continue.