Saudi Arabia
Saudi TV Releases Archived Footages of Dead King Abdullah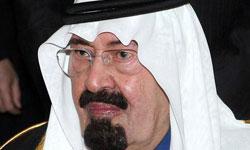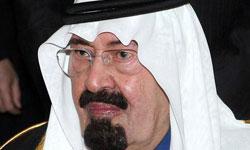 Saudi sources confirmed authenticity of earlier reports saying that King Abdullah bin Abdul Aziz is "clinically dead", and said the footages released by the Saudi state-run TV which showed the King alive were from archive.
"Reports show that his physical condition is deteriorating and the footages released of him belong to archive," Zaid al-Issa told FNA on Tuesday.
"The Saudi government was obliged to release these footages after rumors grew in Riyadh and other parts of Saudi Arabia about his death," he added.
Albawaba News quoting Arabic newspaper Asharq Alawsat reported last week that medical staff in Saudi Arabia had confirmed late November that the king's basic organs were no longer working.
According to the source, "the fate of the king will be determined within three to four days."
The news contradicted reports from the Saudi Royal Court, which publicly announced that an 11-hour operation on the king had been a success.
According to state news agency, SPA, the 89-year-old monarch was in hospital for surgery to tighten a ligament in his back.
Meanwhile, Saudi crown prince, Salman, has reassured the people during a cabinet meeting about King Abdullah's health, more than a week after the surgery, state news agency SPA reported.
The king was admitted for surgery on November 16 and an announcement from the Royal Court said he had undergone a successful back operation that took 11 hours.
Abdullah, who took over power in 2005, named his brother, Prince Salman, heir apparent in June, after the death of Crown Prince Nayef bin Abdulaziz.