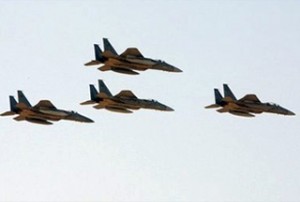 Saudi fighter jets have launched another round of aerial bombardment of Houthi positions in northwestern Yemeni province of Sa'ada.
The Houthi fighters said on Wednesday that the intensified-airstrikes same a day after Saudi troops suffered defeat during a Tuesday ground incursion.
Houthi fighters, meanwhile, released new footage of seized Saudi firearms and ammunition.
Meanwhile, Saudi Arabia's King Abdullah has inspected southern Jizan province where the fighting between the Saudi army and the Houthis has taken place.
Riyadh claims it is acting to prevent the Houthis from crossing into the Saudi territory. The Houthis deny the claims, saying the are already engaged in an armed conflict with Sana'a and are not interested in opening another front.
The Shia fighters accuse Saudi Arabia of assisting the Yemeni army in its war against them.
The conflict intensified in August when Yemen's army launched Operation Scorched Earth in an attempt to crush the fighters in the northern province of Sa'ada.
The Houthis accuse the Yemeni government of violation of their civil rights, political, economic and religious marginalization as well as of large-scale corruption.
The Saudi air force has further complicated the armed conflict by launching its own operations against the Shia resistance fighters.
According to the fighters, Saudis use toxic materials including white phosphorus bombs against civilians in north Yemen.
The UN High Commissioner for Refugees (UNHCR) estimates that since 2004 up to 175,000 people have been forced to leave their homes in Sa'ada to take refuge at overcrowded camps set up by the United Nations.