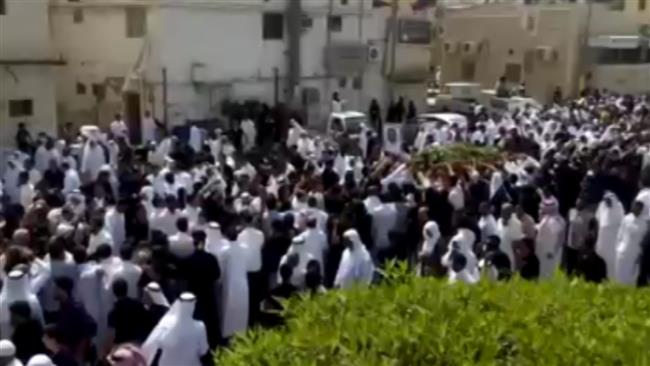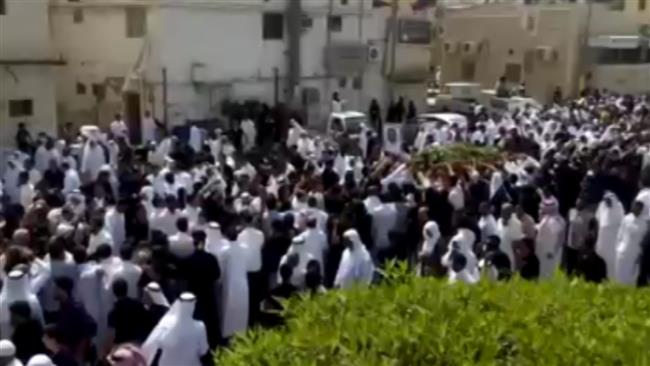 A mass funeral has begun in Saudi Arabia's Qatif district in the country's Eastern Province for the victims of a recent bombing in a mosque in the region, with thousands taking part.
According to organizers, a huge crowd has turned out for the funeral procession to show respect for the victims of the Friday bombing in a mosque in al-Qudaih village which led to the killing of 21 worshipers, including two children.
Initial videos posted on the social media showed people carrying banners with words in support of the victims written on them.
The huge rally comes despite warning by extremists that they may again launch an attack on Shia gatherings. Organizers of the funeral said they have coordinated all security measures with local authorities, adding that many have agreed to act as marshals to protect the crowds against any potential attack.
Even women and children declared their willingness to attend in huge numbers, although they have been warned to stay away from the main gathering of mourners.
On Saturday, tens of thousands of demonstrators took to the streets of the region to show their anger against the Takfiri ISIL group – which claimed responsibility for the bombing – as well as the Al Saud dynasty. Protesters expressed their frustration at authorities over the deadly blast.
The Qudailh bombing, which left more than 200 injured, was the second such hate crimes against Saudi Shias in less than a year. Seven other Shias were gunned down in November in the Eastern Province village of Al-Dalwa while observing their religious rituals.
Security officials have also confirmed that the bomber had links to the ISIL, a group currently based in territories in neighboring Iraq and Syria, which continues committing crimes against followers of all religious denominations, including the Shias.
The killing of Saudi Shias has caused an international outrage, with rights groups and regional countries expressing concern over the ongoing deadly violence.
Saudi Arabia's Eastern Province has been the site of peaceful demonstrations, mostly in the districts of Qatif and Awamiyah, since February 2011. Protesters have been demanding reforms, freedom of expression and the release of political prisoners. They want an end to economic and religious discrimination against people of the oil-rich region.
Several demonstrators have been killed and dozens of activists have been arrested since the beginning of protests in the Shia-dominated province.