Days of Allah
International Quds Day
Middle East
Palestine
Saudi Arabia
Yemen
Saudis, UAE responsible for repercussions of 'shameful' normalization with israel: Yemeni scholars
A group of Yemeni religious scholars have condemned attempts by a number of Arab states to normalize relations with the Israeli regime, holding Saudi Arabia and the United Arab Emirates responsible for any negative repercussions of such bids.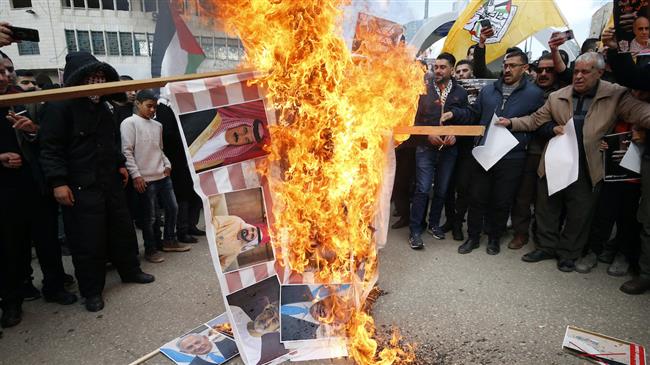 Yemen Scholars Association, in a statement released on Thursday, reiterated the Islamic nature of al-Aqsa Mosque and the Israeli-occupied city of Jerusalem al-Quds, emphasizing that Zionists are neither welcome there nor have the right to occupy even an iota of the places.
It stressed the need for solid support for resistance movements in Palestine and Lebanon in the face of the Zionist threat.
The association then called for the issuance of a fatwa (religious decree), which prohibits and condemns rapprochement with the Zionists, conclusion of deals with their criminal leaders and participation in bilateral conferences.
It also called on scholars and religious preachers to attach great attention to the Palestinian cause, give an urgent priority to the matter and work to thwart all plots and conspiracies of the usurping Tel Aviv regime.
"The Saudi and Emirati regimes are fully responsible for the repercussions of shameful penchant for Zionists and [the United States of] America, which spearheads … tyranny and corruption," the association noted.
It then pointed to the importance of fraternity and unity among resistance factions and movements, underlining that the groups must put their differences aside.
The association finally stated that International Quds Day is an event aimed at public mobilization and preparations for the liberation of the revered al-Aqsa Mosque.
International Quds Day is a legacy of the late founder of the Islamic Republic, Imam Khomeini, who designated the day in solidarity with Palestinians.
Since the 1979 Islamic Revolution in Iran, the event has been held worldwide on the last Friday of the Muslim fasting month of Ramadan.
Earlier this month, a high-ranking official with the Palestinian Islamic Resistance Movement, Hamas, denounced any form of normalization of ties with the Israeli regime as a crime that cannot be absolved.
Speaking through the video link at an Arab forum on May 9, Ismail Haniyeh, the head of the Hamas political bureau, warned normalization efforts by some Arab countries will escalate Israeli acts of aggression against the Palestinian nation.
Haniyeh added that the Arab world will remain the stalwart supporter of Palestinians and their struggle against the Tel Aviv regime, irrespective of slightly covert bids to normalize relations with Israel in different fields.