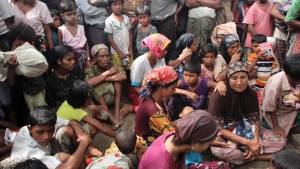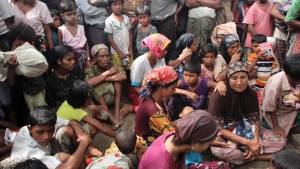 Myanmar is conducting its first population census in three decades amid fears of ethnic strife.
Tens of thousands of census-takers began gathering data on Sunday in a 12-day population survey backed by the United Nations Population Fund (UNFPA).
Commentators say the census is hugely flawed because it leaves out many religious and ethnic minorities.
On Saturday, the Myanmar government announced that Muslims minorities cannot list themselves as Rohingya despite assurances by the UN. Instead, the Rohingya Muslims can call themselves Bengali.
However, Myanmar Muslims in the troubled western state of Rakhine have expressed determination to defy the government decree.
"We do not want any problems. I was born here and my parents were also born here. I was born a Myanmar national. For me, I will not register as Bengali, I will register as Rohingya," said Hla Myint, a Rakhine resident.
Extremist Buddhists in Rakhine said prior to the launch of the census that they would boycott the survey if Rohingyas were allowed to register. The Buddhists fear that the registration as Rohingyas could lead to official recognition of the Muslim minority.
Meanwhile, in some parts of the country, administrators have barred census-takers, claiming that the information could be used for political purposes.
Based on the last count in 1983, there is an estimated 60 million people living in the Southeast Asian country.
Rohingya Muslims in Myanmar account for about five percent of the population. They have been persecuted and faced torture, neglect, and repression since the country's independence in 1948.
Myanmar's government has been repeatedly criticized for failing to protect the Rohingya Muslims. International bodies and human rights organizations accuse the government of turning a blind eye to the violence.