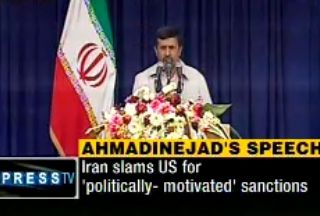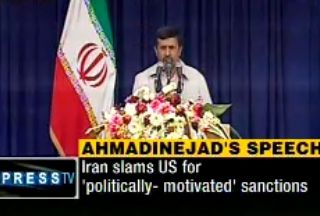 Iran's President Mahmoud Ahmadinejad says the main purpose behind the UN Security Council's (UNSC) anti-Iran resolution was to save the Israeli regime from worldwide criticisms.
Addressing a large crowd of people in the central Iranian province of Chaharmahal- Bakhtiari Province, President Ahmadinejad said that the Iranian nation is vigilant and will respond to the Israeli regime.
On June 10, twelve Security Council members, including Russia and China, voted in favor of a US-proposed resolution for a fourth round of sanctions against Iran. Brazil and Turkey voted against the resolution while Lebanon abstained from voting.
President Ahmadinejad also said that Israel backed by propaganda campaign and US military force has occupied the Palestinian territories.
"Israel made the Palestinian people homeless. Over a period of more than over 60 years they launched five major wars and attacked dozens of villages and killed people. They bombarded the Palestinian residential areas. They assassinated and bombarded the faithful people," he added.
"They launched large aggressions against their neighboring nations and put heavy pressure on the Palestinian people and also threatened freedom-seeking nations. These have been done under this criminal group," he went on to say.
"Look how they act. They gathered the worst criminals and in broad daylight they assassinated people by using fake passports and ID cards of other nationals to our region and even other countries. They assassinated good and faithful people. This is while the US government and Washington support the criminal cabal. They awarded them with peace medals and supported these criminals."
President Ahmadinejad further noted that it is for more than three years that the people of Gaza are under siege in their own homeland and they are deprived of food, water and medicine.
"They are under the bombardment and missile attacks and heavy shelling and even being attacked by chemical weapons", the Iranian chief executive stated.
"You saw what the Zionists did to the Gaza-bound aid flotilla carrying medicine and food for the civilians. Of course most governments have condemned the attack on flotilla convoy. We see the US government and a few of its allies support the criminal instead of condemning these crimes they committed," he said.
"They bombarded the people of Gaza with helicopters, aircrafts and advanced weapons. They have killed a large number of them and arrested them. While in custody they are tortured."
"Israel assassinates people after faking other countries' passports. At the same time what did the US government did?" he asked.
President Ahmadinejad also pointed out that the Zionist regime has hundreds of nuclear weapons and constantly threatens regional nations.
"The US supports Israel and provides it with nukes. The US supports Israel politically and offers billions of dollars in aid to Israel," he concluded.
President Ahmadinejad is currently on the third round of his provincial tour in the central Iranian Chaharmahal-Bakhtiari Province.