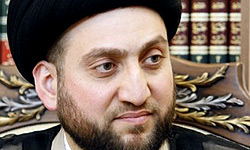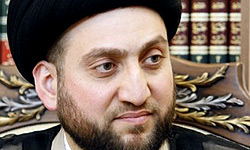 Head of the Islamic Supreme Council of Iraq (ISCI) Sayyed Ammar al-Hakim lambasted the world powers and the international community for taking a "shameless and brazen stance" on Zionist atrocities against the defenseless Palestinian people in Gaza.
Hakim expressed regret over certain states and governments' support for the Israeli aggressions on Gaza, and said it is of much shame that these governments back the Zionist regime and blame the Palestinian nation for the Israeli aggressions and atrocities against people in Gaza.
Meantime, the ISCI leader lauded the Palestinian resistance movements for their crushing response to the Israeli aggression on Gaza.
Today, Palestinian resistance groups gave a crushing response to the Zionist regime injuring six Israelis and damaging three buildings on the fourth day of their retaliatory attacks against Tel Aviv, media reports said.
The resistance forces fired at least 40 rockets at Israel on the fourth day of their fire exchanges with the Zionist army and injured six Israelis, including thee military personnel, al-Mayadeen television network cited the Israeli media reports as saying.
They also inflicted substantial damage on three buildings in Israel.
Israel triggered the current fighting by assassinating the military chief of the ruling Hamas group on Wednesday followed by dozens of airstrikes on Gaza.
The Palestinian resistance movements, Hamas and Islamic Jihad, were left with no options other than launching retaliatory attacks at Israeli military targets.
They have fired more than 800 missiles and rockets at Israel. Four Israelis have been killed and about 90 others wounded in four days since Israel initiated the attacks.
Palestinian resistance groups targeted a settlement near Jerusalem for the first time Friday, launching a rocket attack in a major escalation of hostilities as Israel pressed forward with relentless airstrikes on the Gaza Strip.
Israel called up thousands of reservists and massed troops along the border with Gaza, signaling a ground invasion of the densely populated seaside strip could be imminent. The attack on the Israeli settlement, along with an earlier strike on Zionists' capital Tel Aviv, has frightened the Israeli regime.
Today, a senior Palestinian leader warned the Zionist regime against launching a ground incursion into Gaza Strip, saying that the coastal enclave would became a graveyard of Israeli soldiers otherwise.
"If the Zionist regime decides to extend its aggressions to ground assaults, Gaza will turn into a graveyard for Israelis," Lebanese satellite television Al-Manar quoted a member of the Palestinian resistance movement Hamas, Mushir Al-Masri as saying.
"The resistance is fully prepared to confront Israel and our clashes are intensifying," he said.
Meantime, different Palestinian resistance groups vowed that they would confront the Zionist regime's attacks on the Palestinian territories in Gaza.
In a meeting in Gaza on Friday night, they concluded that Israel is not serious about ceasefire, and underlined that they would confront the Zionist regime's attacks on the Palestinian territories in Gaza.