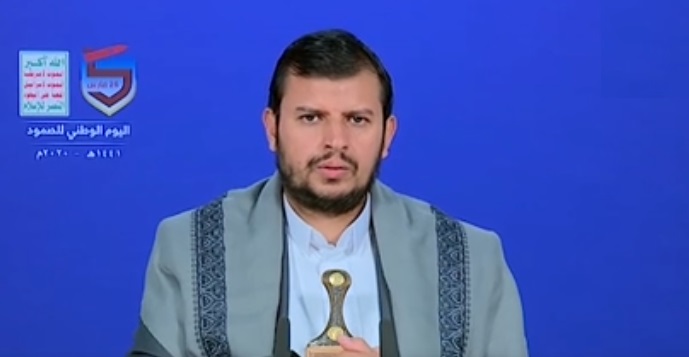 Leader of Yemen's Ansarullah movement Sayyed Abdul-Malik Badreddin Al-Houthi stressed on Tuesday that the fight against the enemies and their mercenaries aim at preserving the Islamic identity of the Yemenis, maintaining the rejection of any guardianship and emphasizing that no one can ameliorate and justify the normalization deals with 'Israel'.
Sayyed Houthi urged the Yemeni army and popular committees to continue confronting the Saudi-led aggression, calling on the enemies' states to stop the war and blockade on Yemen.
Sayyed Houthi stressed that the military operations in Marib, Al-Jawf and other provinces comes in the context of the confrontation of the aggression forces, adding that most of the locals in Marib are fighting along with the army and popular committees.
The Yemeni air force launched on the same day a drone attack on Jeddah and Abra airports in response to the ongoing Saudi aggressi0n on Yemen.
Yemen has been since March 2015 under brutal aggression by Saudi-led Coalition, in a bid to restore control to fugitive president Abd Rabbu Mansour Hadi who is Riyadh's ally.
Hundreds of thousands of Yemenis have been killed or injured in the strikes launched by the coalition, with the vast majority of them are civilians.
The coalition, which includes in addition to Saudi Arabia and UAE: Bahrain, Egypt, Morocco, Jordan, Sudan and Kuwait, has been also imposing a harsh blockade against Yemenis.
Source: Al-Manar Eglish Website