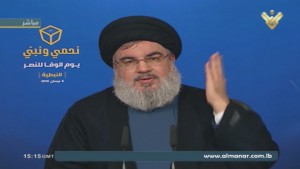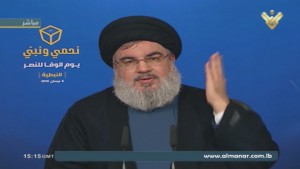 Hezbollah Secretary General Sayyed Hasan Nasrallah expressed from Al-Beqaa his support for Al-Ghad Al-Afdal (Better Tomorrow) list with all its members even if they were not directly related to Hezbollah.
Speaking at an electoral rally that Hezbollah held Sunday in Mashghara, Western Beqaa, Sayyed Nasrallah said that "Al-Ghad Al-Afdal list reflects the spirit of loyalty and resistance, and every list for Amal Movement is a list for Hezbollah, and every list for Hezbollah is a list for Amal movement in all the regions."
His eminence reassured his support for candidate Mohammad Nasrallah, saying "he is a representative of both Amal Movement and Hezbollah and has the best qualifications and commitments," and called for wide participation in the elections.
Sayyed Nasrallah indicated that the people of Eastern Beqaa and Rashaya are a major element of the resistance and its battle in defending their land for large numbers of leaders and fighters were martyred during the resistance operations against the Israeli occupation and ISIL.
"Due to that, this region supports this list, and its strong presence in the parliament, cabinet, and state institutions is a real guarantee for the resistance and the golden equation… In addition to the armament, the resistance needs a shield to rely on against conspiracies," he said.
On the environmental level, his eminence referred to Litani river and Qaroun lake pollution prevention projects and assured that the parliament members hold the responsibility of that especially after the budget has been approved.
On the existential level, Sayyed Nasrallah noted that the Israeli enemy poses threat on the existence of people in this region because it has projects in this region that are based on its geographic location which is close to occupied Palestine.
"The diversity in Eastern Beqaa and Rashaya is fundamental and old and it should be preserved and protected so that people can stay in their lands and villages… even though the enemy today is too weak to wage a land attack on Eastern Beqaa, Rashaya, and the South after the Merkava massacre that took place, precautions must be taken, and harmony between Army, Resistance, and People would be the strategic response to any threat," he added.
In a similar context, Hezbollah secretary general wondered about the reason why some parts in Eastern Beqaa still incite against the resistance knowing that it ensures their safe and honorable existence… stressing that the social and economic bilateral relations between the people in Beqaa and Damascus has always been a normal thing.
Based on that, his eminence called upon some people in Beqaa to reconsider their political options because "whoever bargains on the destruction of Syria for the sake of the US and Israel would be deceived".
On another hand, Sayyed Nasrallah stressed the importance of co-living in the region and asked people to prevent any political conflict from transforming into a sectarian one.
"Whoever has no evidence refers to sectarian fanaticism, any movement or party that has a clear cause does not need to stir incitements. In contrast, whoever has no credibility and is weak refers to inciting people against one another…"  he further stated.
Regarding the US assault on Syria Saturday, Hezbollah secretary general noted that US-France-Britain hastened the attack on Syria because they wanted to end it before the "Organization for the Prohibition of Nuclear Weapons" delegation – which wanted to examine the soil in Douma – arrives to Syria on Sunday.
"(US president Donald) Trump and the French president are aware that this is a play, this is why they hastened the assault on Douma… just another evidence on the US arrogance," Sayyed Nasrallah affirmed, adding that "France and England were just a cover so that the US wouldn't be blamed alone, because the size of targets did not require all this alignment…"
His eminence praised the bravery of the Syrian Air Defense Forces, and listed the supposed goals behind the US-France-Britain attacks.
"If it was to submit and blackmail, it failed. If it was to frighten and break the morale of the Syrian people and their allies, this also failed and the opposite happened. If it was to lift the morale of the militants, the attack frustrated and disappointed them according to what their leaders stated. Finally, if their goal was to change the equation for the benefit of Israel, the Israelis were also frustrated and stated that Trump's beautiful rockets got a zero result…"
"They Claimed that they wanted to destroy the chemical infrastructure in Syria… and after every victory we will witness a similar chemical play… (Supreme Leader of the Islamic Republic) Imam Ali Khamenei constantly states that producing chemical weapons is prohibited and all evidence assure that Iran is not seeking to own chemical weapons, yet it is still being punished over that accusation and Syria is suffering that too."