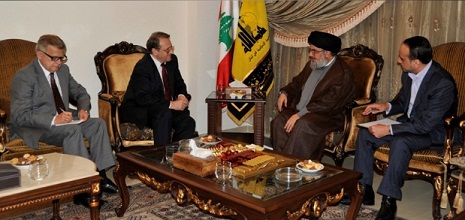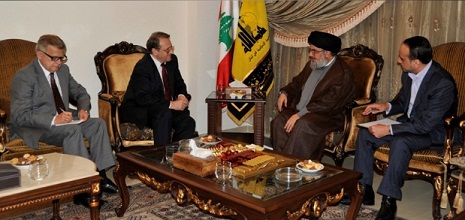 Hezbollah Secretary General Sayyed Hasan Nasrallah had received on Saturday evening Russian Deputy Foreign Minister Mikhail Bogdanov.
The meeting was attended by the Russian Ambassador in Lebanon Alexander Zaspkin and Hezbollah's International Relations official Ammar Mousawi.
The meeting tackled several political developments in the region, especially in Lebanon and Syria.
Bogdanov concluded on Sunday his four-day visit to Lebanon. Ahead of his departure, he said that talks with Lebanese figures focused on the latest local and regional developments. "Our visit helped us develop a vision regarding the future of Lebanese-Russian ties," he told reporters.
During his Lebanon visit, Bogdanov had met President Michel Sleiman, Speaker Nabih Berri, caretaker Premier Najib Mikati, Prime Minister-designate Tammam Salam, and several other political leaders.