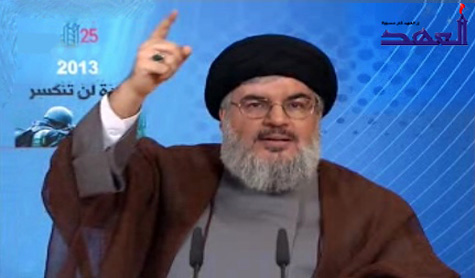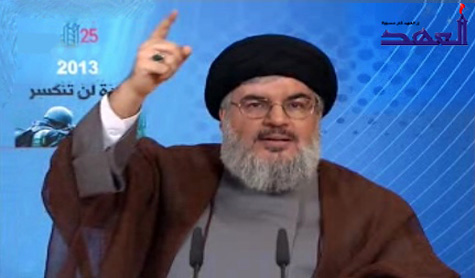 On 25 May 2013, Hizbullah held a central celebration in the village of Mashghara, West Lebanon.
Following the recitation of verses of the Holy Quran and some hymns rejoicing the celebration, Hizbullah's Secretary General His Eminence Sayyed Hassan Nasrallah appeared via video-link to deliver his speech which thousands awaited.
His Eminence recalled the leaders of the Islamic Resistance, as well as the martyrs and the Mujahideen, assuring that if it were not for their effort and sacrifices, Lebanon would have never witnessed this liberation.
Salute to the Martyrs
"In these moments, we salute all the martyrs, their families, the wounded and the detainees who were freed from prison, as well as all our peoples who remained steadfast in their land and all the Lebanese, Palestinians, and Syrians who sacrificed for the sake of the army, the people and the Resistance, and made liberation possible on top of which are Sayyed Abbas Moussawi, Sheikh Ragheb Hareb, Martyr Imad Moghnieh and all the martyrs," he said.
His Eminence also praised the Western Beqaa region and its people who have played a pivotal role in supporting the Resistance.
Resistance Day, according to Sayyed Nasrallah is a day of Divine mercy, where Allah supported the Resistance and poured his wrath on the Zionist occupier.
"The victorious day of May 25, 2000 must remain in our memories for years to come because it held sacrifices, hopes and dreams; it is a day that must not be forgotten and should be delivered to future generations," Sayyed Nasrallah highlighted, stressing "It is the day when "Israel" exited the Gaza strip due to the Resistance's efforts."
However, he emphasized that we should not forget the Nakba and the Naksa of Palestine, these sad memories that have affected all Arabs and Muslims.
"We celebrate this day while facing a number of challenges and dangers, chiefly the "Israeli" threat since the 1948 Nakba and the Syrian developments, not to mention the emerging Takfiri groups," he stated.
According to the Hizbullah Leader, "Israel" continues to execute its project in occupied Palestine while the International Community remains silent about its activities.
"Israel" Preparing for War, Lebanon Doing What?
Since the Divine victory of the 2006 war, the Zionist enemy has been training and holding maneuvers in its interior front, he stated.
"On Sunday, "Israel" has another maneuver planned in order to have a solid interior front; they even have a ministry for their interior front. They consider themselves ready for war on all levels," Sayyed Nasrallah noted.
He went on to say that "Israel" threatens Lebanon with war, it is gathering its forces at the borders. It has been also attacking and bombing Syria.
"To Lebanon, "Israel" has been preparing for war and resolving gaps since 2006. What have we, in Lebanon, done to prepare for any possible aggression by "Israel"?" His Eminence questioned.
Sayyed Nasrallah iterated "We face a historic moment, there is no time for compliments. It is time for us to bear responsibilities."
He further called for a strong well equipped army that can defend Lebanon, pointing out, "What have we done to strengthen the army since 2005? They claim there is no funding and that the United States is against arming our troops. This is because they are aware that the Lebanese army will fight in the same way as the Resistance does."
Sayyed Nasrallah explained "No Arab army is allowed to be armed if their weapons are used against "Israel". It is forbidden to sell arms to Syria, but tremendous arms are sold to many other countries only because they guarantee not to shoot even one bullet at "Israel".
On the Lebanese civil file, Sayyed Nasrallah wondered "What has the state accomplished since 1948? Who is responsible? In Lebanon, there are no shelters, no safe accommodations. Is the Resistance also entitled to take care of the civil needs?"
Answering his question, he said, "Our infrastructure accomplishments in the South are solely due to personal efforts by Speaker Nabih Berri and not by the government."
Sayyed Nasrallah noted that "Israel" arm its settlers living at the borders, builds settlements on its border with Syria, Lebanon and Jordan, recruits Jews from all over the world, offers them salaries and job opportunities, and gives them military training and weapons. He underscored "Meanwhile, the arms owned by our people on the border villages are considered illegal."
Some Want Resistance, the Only Guarantee, Gone
Stressing the role of the Resistance, Sayyed Nasrallah elaborated, "Everything done in Lebanon to confront "Israeli" threats and attacks was established by the resistance, and I do not mean Hizbullah only, but everyone who made an effort."
"Today, Lebanon owns a power that defeated "Israel" and drove it outside Beirut, Mount Lebanon, Sidon, Tyr, all the way to the borders, the Resistance confronted "Israeli" in July (2006 aggression), it has been training and "Israel" fears it whereas many in Lebanon are wondering how to get rid of it," he added.
Moreover, Sayyed Nasrallah assured that no one has even thought of how to protect Lebanon from the "Israeli" threat, and that some people in Lebanon want the Resistance gone.
"If we put the Resistance under the control of the government, its power and authority will disappear. Our state cannot even protect people trying to have a funeral in Sidon, agree on an electoral law, or stop the conflict in Tripoli," he accentuated.
Sayyed Nasrallah further called on all Lebanese to be aware since "Israel" is preparing to confront Lebanon.
"The Resistance will always defend you and you will always be able to hold your heads up high in victory. The resistance that defeated "Israel" cannot be disarmed as this cannot protect a country or deter its enemy," he stressed, adding "listing Hizbullah on the lists of terror organizations is old news."
Syria Events Crucial, Political Solution Required
On Syria, Sayyed Nasrallah noted that events in Syria are very crucial for Lebanon's present and future.
"Since the beginning of Syria's war we have said that Assad's regime has its positives and negatives. Reform is required and the only way to reach this is through political dialogue," His Eminence remarked.
Sayyed Nasrallah expressed, "We know very well what Syria means to the Resistance. I have contacted Assad and members of the opposition to reach a settlement. Assad accepted the suggestion whereas the opposition rejected it."
According to Sayyed Nasrallah, "The events in the last few years have proved that there is an axis led by the US and supported by "Israel" while al-Qaeda and other Takfiri organizations from around the world were paid to take part in it."
"Part of the Syrian opposition abroad has a vision and is ready to sit for dialogue, whereas others work under the Pentagon's orders."
US-Backed Takfiri Organizations Threat to All
Meanwhile, Takfiri groups dominate the Syrian Opposition on the ground and are ready to pay the price for any settlement in Syria," according to Sayyed Nasrallah. He further elaborated, "Takfiri groups' control over Syria and especially in border areas with Lebanon poses a great danger for the Lebanese Muslims as well as Christians."
As for regional countries, these groups rejected many suggestions and settlements that were accepted by the Syrian regime because they do not want Assad's regime.
The Takfiri mentality, Sayyed Nasrallah noted, killed much more Sunnis than other Muslim sects.
"What future do you expect in Lebanon, Syria and Palestine with the presence of these Takfiris?" His Eminence questioned.
"We do not evaluate matters from a Sunni or Shiite perspective, but from a perspective joining all Muslims and Christians together, since they are all threatened by this Takfiri plot financed by the US," he emphasized.
Furthermore, Sayyed Nasrallah viewed that the Syrian crisis is an implementation of the American-"Israeli" scheme in the region.
"Syria is the resistance's main supporter and the resistance cannot stand still and let [Takfiris] break its backbone. Since 1984, many thought that no one could change the regional equation, but we did. We believe our action to be a defense of Lebanon, Palestine and Syria," he stated.
"If Syria falls in the hands of the Takfiris and the US, the resistance will be trapped and "Israel" will enter Lebanon. If Syria falls, the Palestinian cause will be lost," he voiced.
We Promise You Victory Again
On a similar note, Sayyed Nasrallah noted that the Resistance's stances subject it to wide media and political campaigns, whether it had fought in Syria or not, emphasizing, "being on terror lists is not new."
"We actually take pride in the fact that Europe considers us as being able to change the regional equation," he added.
Further adding on the defamation campaign launched against Hizbullah, Sayyed Nasrallah iterated, "No one can accuse us of being sectarian. Attempts to weaken our morale and will power will not succeed."
Assuring that Hizbullah defends all just causes and defying it works on sectarian bases, he said "We have fought in Bosnia, in defense of whom? In defense of the Sunnis. There are no Shiites in Bosnia."
Moreover, he stated "We do not force our youths to go fight in battles. We do not need to call for Jihad because by simply saying two words, thousands of Hizbullah members will be ready for battle."
At the end of the speech, Sayyed Nasrallah concluded that "A new phase has begun to support and protect the Resistance and Lebanon and this is everyone's responsibility."
"Our dear and honorable people: we will continue this path, we will continue to sacrifice, and I reiterate what I had said in the first few days of the 2006 victory: As I have always promised you victory, I promise you victory again," Sayyed Nasrallah concluded his speech, leaving the people chanting his name in loyalty.