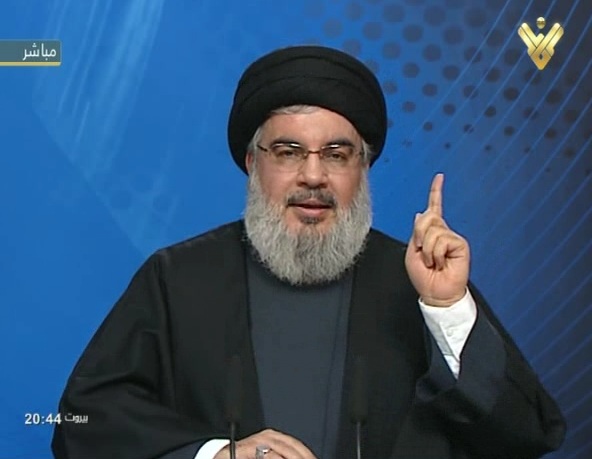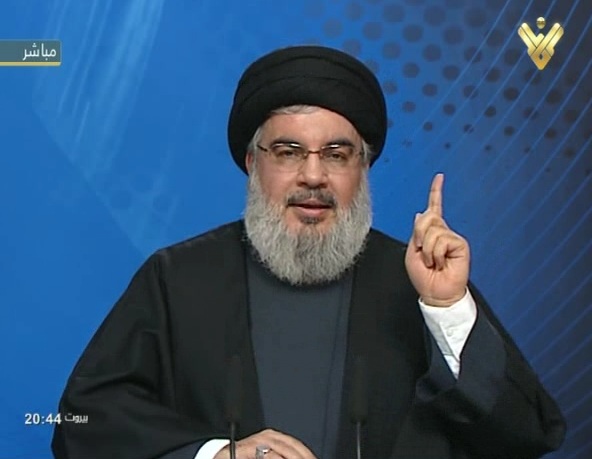 As his eminence firmly reiterated Hezbollah's backing of the head of Change and Reform bloc, General Michel Aoun, for presidency in Lebanon, Secretary General, Sayyed Hasan Nasrallah, stressed that the next President is from March 8 camp and is no more from March 14.

In a TV address via al-Manar on Friday night, Sayyed Nasrallah tackled the issue of presidential elections in Lebanon, stressing that Hezbollah is morally committed to the nomination of General Aoun.

Meanwhile, his eminence questioned sincerity of al-Mustaqbal bloc's backing of MP Sleiman Frangieh for presidency, noting that the way in which (former PM) Saad Hariri nominated Frangieh had negative effects because it was not publicly announced and it was not discussed between March 8 allies.

On the other hand, Hezbollah S.G. called for dialogue and discussion between the Lebanese factions in a bid to reach an agreement on the presidential vote.

Regional Issues

Before getting into the presidential vote, Sayyed Nasrallah denounced the terrorist attack which targeted Imam Ridha Mosque in the Saudi province of al-Ahsaa, as he stressed the importance of countering the Takfiri terrorism in the region.

His eminence offered condolences for Palestinian movement, Hamas, over the martyrdom of seven of al-Qassam Brigades fighters in a tunnel collapse in Gaza strip.

Hezbollah S.G. meanwhile, saluted the resistance fighters who are defending the Lebanese borders against the Takfiri insurgents, as he praised their sacrifices in this harsh weather.

Sayyed Nasrallah also welcomed the resumption of the Lebanese cabinet work, calling on the government to tackle the daily life problems of the Lebanese citizens.

Truth and Fidelty

Tackling the Lebanese presidency issue, Sayyed Nasrallah cited a quote for Imam Zainul Abidin, Ali Ibn al-Hussein (a.s.): "The best key to the matters is truth & the best termination & finalization of the matters is fidelity."

Getting in to the context of Imam Zainul Abidin's quote, Sayyed Nasrallah stressed that he will honestly talk during his speech, and that at the end of the speech he will announce Hezbollah's stance on the presidential vote issue.

His eminence slammed accusations that Iran has been hindering the presidential vote in Lebanon, stressing that the Islamic Republic, the powerful country in this region, "doesn't need the issue of Lebanon's presidential vote to solve its nuclear program."

These remarks come in response to accusations that Tehran was bargaining with the Lebanese internal affairs in a bid to settle the nuclear program issue with world powers.

"If Iran wants to hinder the presidential elections in Lebanon, then it should have utilized this issue in its international relations."

"Iran has not interfered, and will never do so in the Lebanese affairs," Sayyed Nasrallah affirmed.

Mutual Trust, Intimacy
Sayyed Nasrallah stressed that Hezbollah, since the beginning of the presidential crisis in Lebanon, announced that it backs General Aoun for Presidency.
"Based on several conditions, Hezbollah decided to back the candiday of General Michel Aoun."
Meanwhile, his eminence stressed that the relation between Hezbollah and its allies is based on mutual trust, respect and intimacy and not just on mutual interests.
In this context, Hezbollah S.G. put forward and explained the developments related to the presidential elections: Hariri's backing of Frangieh for presidency in November and Lebanese Forces' Chief, Samir Geagea's nomination of Aoun last week.
"Frangieh is an old ally and a dear friend," Sayyed Nasrallah stressed.
He said that he had voiced concern to Frangieh over Hariri's initiative, adding that he called on Marada leader to be cautious regarding this issue in a bid to discuss it with March 8 allies.
"We told Frangieh that we are committed to back Aoun for presidency, but we will discuss the issue of his nomination (by Hariri)."
His eminence noted that Hezbollah had no problem with Frangieh-Hariri meeting.
"Hezbollah trusts its allies. When an ally holds dialogue with our rival we have no problem. Even, we welcome any meeting that include Lebanese factions.|
However, Sayyed Nasrallah said that the manner in which Hariri backed Frangieh for presidency was wrong and "blocked the way for any serious dialogue" between the Lebanese factions, because it was leaked and not publicly announced, as it was not discussed between Frangieh's allies.
"Leaking the nomination of Frangieh (by Hariri) was wrong because it was then politically utilized by powers within March 14 camp."
"Hezbollah Morally Committed to Aoun Nomination"
Talking about Aoun's nomination by Geagea, Sayyed Nasrallah stressed that Hezbollah "welcomes any approach or agreement between Lebanese factions."
Hezbollah S.G. hit back at those who consider that Hezbollah is "confused and embarrassed" because both Aoun and Frangieh are the party's allies.
In this context, Sayyed Nasrallah reiterated Hezbollah's backing of Aoun, stressing that the party is morally committed to Aoun's nomination.
"We took the moral decision to back General Aoun," Sayyed Nasrallah said, but hinted that Hezbollah would back Frangieh in case Aoun withdraws from the presidential race.
"If General Aoun announces he is no longer a presidential candidate, then this is a different story."
Meanwhile, Sayyed Nasrallah stressed that Hezbollah "is keen to preserve friendly ties with our allies," adding: "We are honest; we don't stab them in the back."
At the end of his speech, Sayyed Nasrallah urged dialogue, calling on the Lebanese factions to sit down together and discuss the presidency issue in a bid to settle the disagreements.