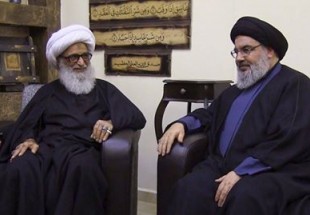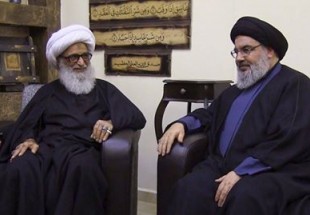 Sayyed Hasan Nasrallah meets with Ayatollah Bashir al-Najafi in Beirut Sayyed Hasan Nasrallah, the leader of the Lebanese Resistance group, made a rare public appearance and visited the Indo-Pakistani source of emulation, Ayatollah Bashir al-Najafi while he is in Beirut for a medical checkup, Hezbollah media reported.
Hezbollah media office said that Sayyed Nasrallah visited Ayatollah al-Najafi and discussed "current Muslim affairs as well as the affairs of both Iraq and Lebanon."
Ayatollah al-Najafi arrived in Beirut last week where he was supposed to undergo medical tests. Ayatollah al-Najafi is one of the most influential Shi'ite clerics worldwide and has been based in the Iraqi holy city of Najaf for decades. He is one of four top Shi'ite clerics based in Najaf.
It is worth noting that Nasrallah himself has did some of his religious studies in Najaf before fleeing to the Iranian holy city of Qom. At the age of 16, Sayyed Nasrallah was on hit-list of the former Iraqi regime led by Saddam Hussein and backed by the US at the time.