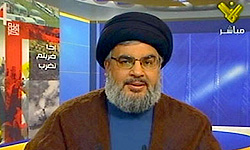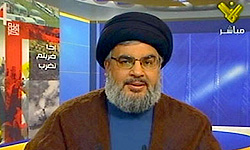 Secretary-General of the Lebanese Hezbollah Movement Seyed Hassan Nasrallah described resistance as the main deterring force against a potential Israeli aggression of Lebanon, and stressed that the Lebanese Resistance movement will maintain and boost its defensive capabilities.
"I want to assert that we will continue our activities in area of resistance, preparedness to defend the country and expansion of our capabilities in different fields and we will not halt it. Nobody should assume that developments in the region or the viewpoints expressed about them can undermine our resolve," Nasrallah said, addressing a ceremony on the occasion of the National Martyrs Day in Beirut last evening.
"We have reached a level that enemy now acknowledges the deterrent capability of the Lebanese Resistance," he said, adding that resistance has been able to create new deterrent equations.
"Nobody in the occupied lands (Israel) says (Lebanese) Resistance lacks deterrence," Nasrallah said, reiterating that abandoning the option of resistance against Israeli aggression will be an "insane and suicidal act".
The results of a vote on the page of talk show program on the Lebanese Broadcasting Corporation (LBC) website showed the Lebanese people's support for Nasrallah's remarks, unveiling great enthusiasm for the Lebanese Islamic Resistance Movement, Hezbollah.
The Lebanese journalist Marcel Ghanem posted a vote on the page of 'Kalam el-Nass' talk show program on the Lebanese Broadcasting Corporation (LBC) website, asking: Do you suspect a role of Hezbollah in the security bombings?
Even though the question has occupied the Lebanese public, where many believed it was unacceptable and suspicious, but that did not prevent around 30 thousand people to participate in the poll.
The audience of the Lebanese Resistance used every means to express their love and solidarity towards the Resistance, whether via Whatsapp messages, Facebook pages or Twitter accounts.
Ghanem announced the results during his Thursday's episode on LBC, after the Resistance supporters made a spontaneous campaign supporting their pride and dignity. 84.8% of the participants said "no" to LBC question.
Chief of Beirut Center for Research Abdo Saad told Al-Manar website that "the vote results reflect the severe enthusiasm which caused the Resistance supporters to rise up in this way".
Saad added that the high rate of almost "85% in favor of the resistance is amazing and expresses the great will of the people and shows that they went on alert themselves and their friends".