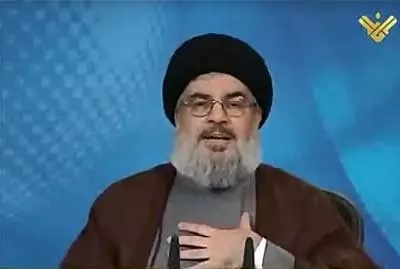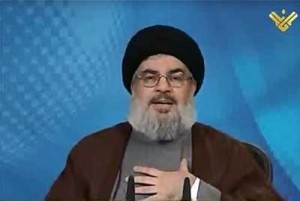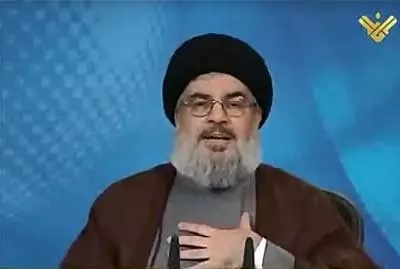 Hezbollah Secretary-General, Sayyed Hassan Nasrallah said "the acceptable and available solution" to the crisis in Syria is political though dialogue without preconditions.
In a speech Sayyed Nasrallah delivered during a festival on the occasion of the 25 anniversary of the establishment of al-Rasoul al-Aazam Hospital in Beirut, Nasrallah called on all "the populations that have been affected by the crisis in Syria to push for a political solution there."
"Everyone whose heart is beating for the Syrian people and is anguished by their wounds should point an accusing finger to those who are obstructing political solution," he said.
Hezbollah Secretary-General saw that those who are obstructing political solution are "exposed and well-known", indicating that Saudi Arabia is infuriated by what is going on in the region, which is no secret" that it drew fighters from all over the world and provided them with weapons and up to USD 30 billion funds, not to mention media instigation.
"The region cannot remain ablaze because some countries are furious and want to obstruct dialogue and postpone Geneva II," Nasrallah added.
"All those who oppose political solution in Syria drink from the same well and want more destruction for Syria and all countries of the region, and for Palestine and its cause," he pointed out.
Obstructing the political solution is horizon-free obstinacy, Nasrallah said, affirming that the current dialogue is an opportunity that ought to be seized.
The front that was aimed at "toppling the regime" in Syria has done everything in its power but have failed to achieve it, Nasrallah said, indicating that "the postponement of Geneva II conference spells more casualties and destruction."
Sayyed Nasrallah drew attention to major changes in the recent months in Syria "in favor of the Syrian Arab army," pointing to the failure of the armed groups to change the military balance and the state of infighting among the armed militias that left scores of them dead and injured.
He also referred to the failure of the Syrian opposition to unify its ranks, the fall of the military aggression scenario against Syria and the public and military steadfastness in Syria. "All adding up to one conclusion: that there is no military solution to the crisis in Syria," he said.