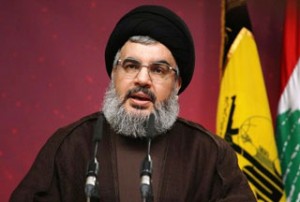 In a rare interview of its kind, Hezbollah Secretary General Sayyed Hasan Nasrallah will be Al-Manar's guest on Wednesday at 21.30 Beirut Time (18.30 GMT).
Sayyed Nasrallah, who would be interviewed by Amr Nassif, will speak about the latest developments in Lebanon and the region.
His eminence will speak during the interview about the Special Tribunal for Lebanon (STL) and the path of the international investigation as well as the circulations in the press concerning the questioning of Hezbollah members.
Sayyed Nasrallah will also declare Hezbollah stance towards the security agreement signed between the Internal Security Forces and the United States. His eminence would also speak about the Israeli threats and the balance of power and strength.
Hezbollah Secretary General will also speak about the ministerial work, the municipal elections and the developments of the Lebanese-Syrian relations.
The interview will also tackle the situation of Al-Quds and the Zionist scheme to Judaize it.