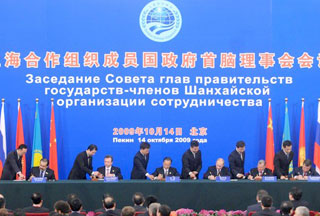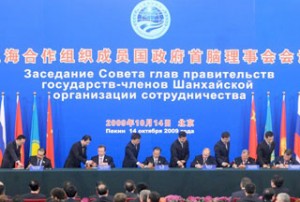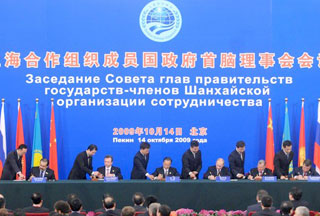 Six members of the Shanghai Cooperation Organisation (SCO) have vowed to deepen economic cooperation in the face of the global economic meltdown.
The decision was made in Beijing Wednesday during a meeting between leaders from Russia, China and four Central Asian nations, Kazakhstan Kyrgyzstan, Tajikistan and Uzbekistan.
Chinese Premier Wen Jiabao said after the meeting that the members took measures "to strengthen multilateral economic cooperation, handle the global financial crisis, and ensure economic development."
Wen also said that the SCO agreed to "vigorously develop exchanges and cooperation" in various fields.
Representatives from India, Iran, Mongolia and Pakistan also attend the SCO summit as observers.
Russian Prime Minister Vladimir Putin described the current economic crisis as a "catalyst for reform of the international financial system", calling on the organization to take part in the process.