Syria
Scores of Gunmen Killed As Syrian Army Operations in Homs, Idlib Continue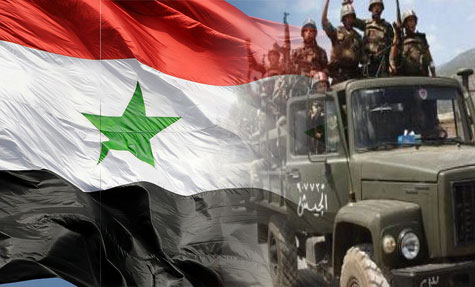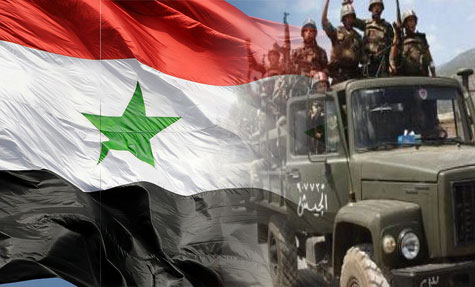 Syrian army units continued on Thursday to strike terrorists' dens and hideouts in several areas across the country, killing numbers of them and destroying their weapons.
In Damascus countryside, several dens for terrorists were destroyed with the weapons stacked inside them in Douma area, with several terrorists getting killed and wounded.
Army units clashed with armed terrorist groups in al-Rihan farms and inflicted direct losses upon them, also destroying their weapons.
Meanwhile, several terrorists killed during military operations against their gatherings in Madaya farms to the east of al-Zabadani, with army units chasing terrorists in Zabadani's western mountains and destroying their weapons and ammunition.
In Homs, a military source said units of the Army and Armed Forces killed large numbers of militants of the so-called 'Islamic State of Iraq and the Levant' (ISIL) terrorist group near Jazl field in Homs northeastern countryside.
According to the source, army units are pursuing terrorists close to the administrative boundaries with Raqqa province.
The source said an army unit dealt direct blows to terrorists' dens in Ounq al-Hawa, killing and wounding numbers of terrorists and destroying their equipment.
In Jub al-Jarrah area, military operations resulted in eliminating two terrorist groups in Um Sahrij and the area extending from Um Sahrij to al-Msheirfeh in Homs eastern countryside.
In Latakia coastal province, a military source said the army killed as many as 30 terrorists in a military strike against their den in Abu Kristin farm in Latakia northern countryside. Several other terrorists were wounded.
A car equipped with a heavy machinegun, a rockets depot that contained 17 Grad rockets and 37 Katyusha rockets that were slated to be used in terrorist attacks against residential areas in Lattakia were destroyed in the operation.
Moreover, army units killed a number of terrorists and destroyed four rocket launchers and vehicles equipped with heavy machineguns during intensive strikes against their gatherings in the villages of Majdal Kykhia, Wadi Sahikhan, Jisr al-Khurafa, Droushan, Marj Shily, Bourj Kabto and Nab' al-Samour in Latakia northern countryside.
The terrorists Marwan Abu Al-Ez, who is a Jordanian, Malek al-Assali, a Palestinian, Khaled Haj Bakri, Samer al-Shaikh, Mustapha al-Sawan, Mamdouh al-Shami and Adnan Joum'a were identified among the dead.
In Idlib, army units carried out a string of precise operations against hideouts of terrorist organizations in Idlib province.
Scores of terrorists were killed in Abu al-Zuhour and Tal Salmo 50 km east of Idlib city, while more terrorists were killed in the villages of Um Jrein, al-Hamidiyeh and Talab.
Army units also killed terrorists and wounded others in al-Bara village in Jisr al-Shughour area southwest of Idlib province, said a military source.
Tens of terrorists were killed during military operations in Khan Shaikhoun area, Tabish village and al-Taman'a town, while other operations resulted in the killing of unidentified number of terrorists and the injury of others in al-Amoudieh village, Heesh ancient town which is located 5 km south of Maaret al-Nouman and in Kansafra in al-Zawiya mountain.
Terrorists were also killed in al-Wastani Mountain west of al-Rouj plain, al-Akrad Mountain in Idlib countryside, Taftanza town and al-Shaikh Idriss village.
The source added that the army destroyed a den for "Suqour al-Sham" terrorists and a vehicle with terrorists inside it on Rweiha-Sarjeh road in al-Zawiya Mountain.
Ibrahim Haj Mohammad Kassam, Ibrahim Haj Mustapha Mousa, Ahmad Taleb al-Nayef, Ibrahim al-Qassem, Mousa al-Salim and Mohammad Jamil al-Ashqar were identified among the killed terrorists.