Europe
Scotland makes formal request to UK for independence referendum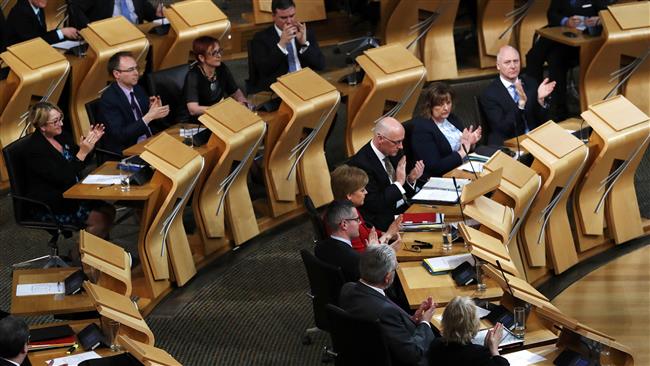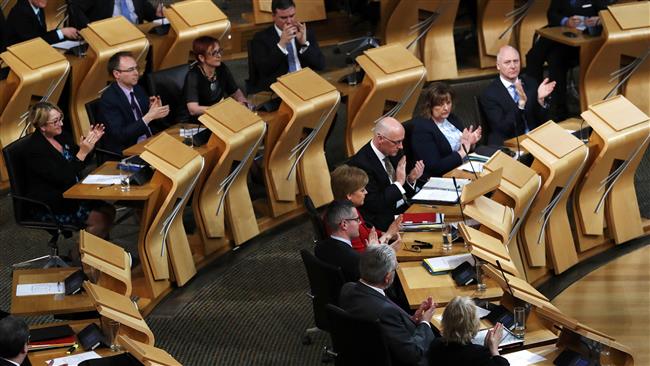 The Scottish government has formally asked UK Prime Minister Theresa May to allow it hold a second referendum following the beginning of Britain's exit process from the European Union. 
Scotland's First Minister Nicola Sturgeon made the request in a letter she wrote to May on Friday, two days after London wrote to Brussels announcing the UK's formal withdrawal from the EU.
Sturgeon tweeted a picture in the day, sitting on a couch at her official residence in Edinburgh and writing the Section 30 letter on a fresh referendum vote for her country.
Earlier this week, Scottish lawmakers had voted 69 to 59 in favor of seeking permission for a second referendum on independence to take place between autumn 2018 and spring 2019.
The Scottish first minister said her mandate for another vote is now "beyond question," and warned it would be "democratically indefensible and utterly unsustainable" to attempt to stand in the way.
This is while May has repeatedly said the referendum request submitted by the government in Edinburgh will be turned down, insisting that now is not the time for another independence referendum and that all efforts should be on securing the best Brexit deal for the whole of Britain after Article 50 is triggered.
"Now is not the time to focus on a second independence referendum or to be looking at that second independence referendum, because [now] is the time when we need to pull together as a United Kingdom," Britain's prime minister recently said in an interview with BBC.
Scotland held its first referendum in 2014, when over 55 percent of the people voted against independence.
In June last year, nearly 52 percent of Britons opted to leave the bloc during the EU referendum; however, some 62 percent of the Scottish people voted against the Brexit decision.