North America
Second night of protests in St. Louis over killer cop's acquittal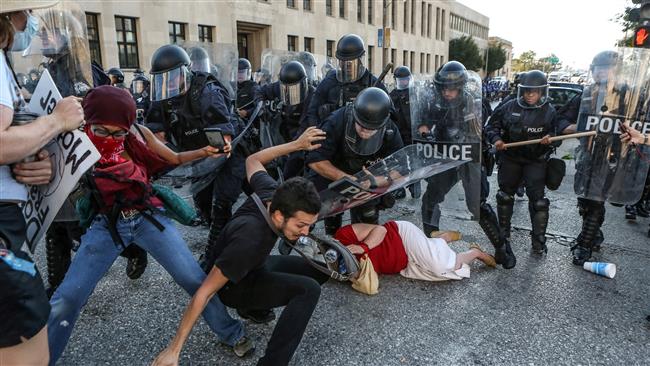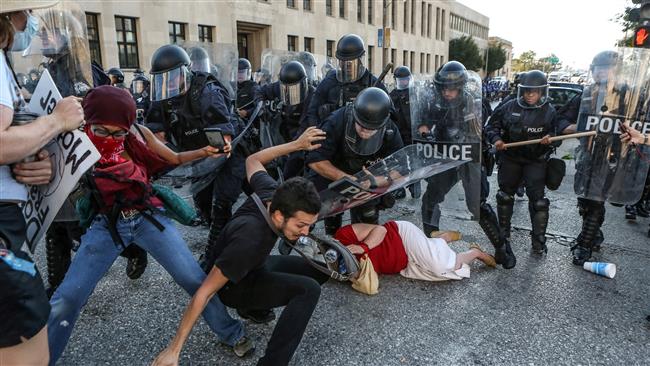 Several hundreds of Black Lives Matter protesters and other activists have taken to St. Louis' streets for a second night in a row and clashed with police following the acquittal of a former white officer in the 2011 killing of an African-American man.
Protesters marched down the streets in St. Louis, Missouri, on Saturday chanting, "Black Lives Matter" and "United we stand/divided we fall."
"We don't want to see property destruction or see people getting hurt," Elad Gross, a 29-year-old St. Louis civil rights attorney, said as protesters gathered in a park near Washington University. "But this is a protest that addresses injustices not only happening here in St. Louis but around the country."
The St. Louis Police Department said on Saturday evening that some protesters clashed with police and scuffles broke out. The police accused demonstrators of smashing windows at the Mayor's house, the St. Louis Public Library and several businesses. Officers fired tear gas and rubber bullets during clashes with protesters.
Protests began on Friday morning when Judge Timothy Wilson cleared former police officer Jason Stockley, 36, who was charged with first-degree murder for killing Anthony Lamar Smith, 24. The officer quit the St. Louis Metropolitan Police Department in 2013 and was arrested in May 2016.
Stockley was accused of planting a gun in Smith's car but claimed in his testimony that he did this in self-defense.
"This court, as a trier of fact, is simply not firmly convinced of defendant's guilt," Judge Wilson wrote in his ruling.
Videos shared on social media of Saturday evening's demonstration showed television host Nick Cannon marching with demonstrators. Cannon raised his fist to the chants of "No justice, no profit" by protesters.
More than 600 protesters held a demonstration on Friday following the verdict in downtown St. Louis, chanting, "No justice, no peace" and "Shut it down." Some protesters held "Black Lives Matter" signs.
Protests continued throughout the day on Friday and into the night with police using tear gas against people and arresting at least 33 protesters, according to interim St. Louis Police Chief Lawrence O'Toole. He said some nine police officers were injured.
Police said they had to use tear gas and pepper balls on the crowd after some officers were hurt by thrown bricks.
The deaths of unarmed black men at the hands of police over the past years have sparked nationwide protests under the banner of Black Lives Matter movement.