Iran
Sediqi Asks for Massive Turnout in Upcoming Presidential Election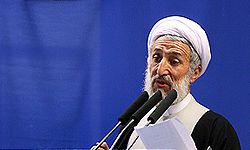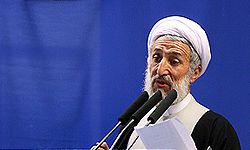 Tehran's provisional Friday Prayers Leader Hojjatoleslam Kazzem Sediqi called for maximum participation of the Iranian people in the upcoming presidential voting due to be held on June 14.
Addressing a large and fervent congregation of people on Tehran University campus on Friday, Sediqi said passionate turnout of the Iranian nation at the presidential election would preserve the country's prestige.
Sediqi said that the broad presence of the people at the voting ballots would convey the religious message taking roots from the enthusiasm of the people.
Candidates officially started election campaigning on May 22 after the official announcement of 8 eligible candidates. Campaigning will continue up to June 13, that is 24 hours before the start of the election.
Iranian voters will go to over 66,000 polling stations inside and outside the country on June 14 to elect their next president.
Meantime, results of a recent opinion poll conducted in Iran suggested that around 70% of eligible voters will cast a vote in the country's presidential election on June 14.
The results of the survey conducted on Ordibehesht 28 (May 18) by Fars Polling Center showed that almost 70 % of eligible voters in Iran have decided to participate in the presidential election.
The survey, conducted on 164,000 people in 31 provincial capitals, 70 towns and 140 villages throughout Iran, found that 69.9% of respondents have decided to cast a vote on June 14.
13.7% said that they will not participate in the election and the remaining 16.7% said they have not made a decision yet.
According to the poll results, people in Iran's Eastern province of South Khorassan and Southeastern province of Kerman will have maximum and minimum participation, respectively.