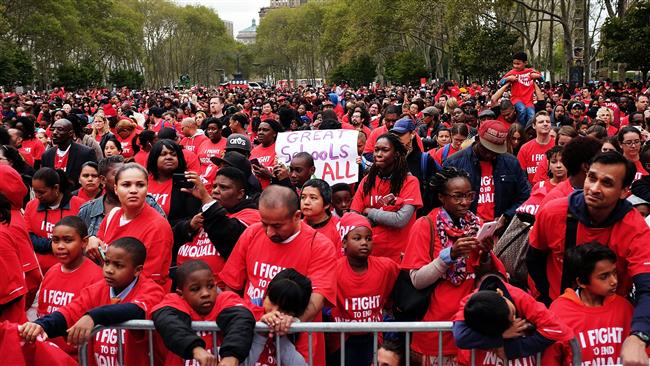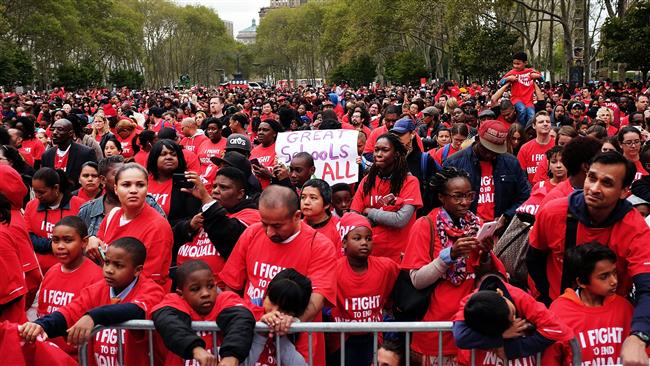 America's public schools are growing more segregated by race and social class as poor, black and Hispanic children are becoming increasingly isolated from their white, affluent peers, according to new findings by the US government.
The data was released by the US Government Accountability Office (GAO) on Tuesday, 62 years after the US Supreme Court ruled that segregated schools are "inherently unequal" and therefore unconstitutional.
The report by the GAO, the US Congress' watchdog agency, echoes what advocates for low-income and minority students have said for years.
The GAO investigators found that from the 2000-2001 to the 2013-2014 school year, the percentage of all schools with so-called racial or socio-economic isolation grew from 9 percent to 16 percent.
Researchers define "isolated schools" as those in which 75 percent or more of students are of the same race or class.
Federal investigators found that such schools offered disproportionately fewer math, science and college preparatory courses and had higher rates of students who were held back in ninth grade, suspended or expelled.
The report, requested by Congress in 2014, on the 60th anniversary of the Brown v. Board of Education decision that struck down the 'separate but equal' laws that segregated schools, was released on Tuesday, on its 62nd anniversary.
US Representative John Conyers, a black lawmaker from Michigan and one of two congressmen who requested the study, said it "confirms what has long been feared and proves that current barriers against educational equality are eerily similar to those fought during the civil rights movement. There simply can be no excuse for allowing educational apartheid in the 21st century."
"Segregation in public K12 schools isn't getting better; it's getting worse, and getting worse quickly, with more than 20 million students of color now attending racially and socioeconomically isolated public schools," said Representative Bobby Scott of Virginia, the other lawmaker who requested the study.
US civil rights advocates have complained for years that American schools are splintered by race and class.
Last week, the Civil Rights Project at UCLA reported that even as the number of minority students in American public schools has grown over the past three decades, segregation has increased in many schools.
It noted that the percentage of "hyper-segregated schools, in which 90 percent or more of students are minorities, grew since 1988 from 5.7 percent to 18.4 percent.