Africa
Middle East
Senior Bahraini cleric felicitates Nigeria's Sheikh Zakzaky on release from prison
Bahrain's most prominent cleric Ayatollah Sheikh Isa Qassim has felicitated Sheikh Ibrahim Zakzaky, leader of the Islamic Movement in Nigeria, over his and his wife's acquittal of the charges leveled against them and their subsequent release from jail.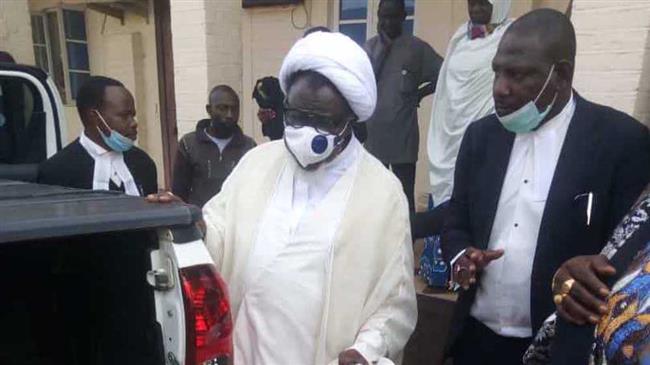 Sheikh Qassim, in a statement released on Monday, described the 68-year-old Nigerian Muslim cleric as a "zealous" campaigner for Islamic teachings, human dignity, and freedom of human beings.
"The day of your release from prison marked a truly joyful event for believers and for all those who appreciate your role in advocating freedom and brotherhood, who strive to promote truth and justice, who seek nothing other than pride, dignity and liberty for themselves, their comrades, and all people, and who do their utmost to confront oppression," the statement said.
Sheikh Qassim added, "Your acquittal of all charges leveled against you brought disgrace on all those who caused you an injustice."
The senior Bahraini Shia cleric then prayed for Sheikh Zakzaky's and his wife's health.
On July 28, the high court in Nigeria's central state of Kaduna acquitted Sheikh Zakzaky and his wife, Mallimah Zeenat, of all the charges brought against them back in 2015 and ordered them released.
The trial originally commenced on May 15, 2018, but dragged on for over three years, when the high court — presided by Judge Gideon Kurada — eventually issued its final verdict.
In December 2015, Nigeria's military launched a crackdown as part of a deadly state-ordered escalation targeting the movement that Abuja has branded as illegal.
The campaign saw the troops attacking Zakzaky's residence in the town of Zaria in Kaduna, afflicting him and his wife with serious injuries that reportedly caused the cleric to lose his left eye.
During the crackdown, the military also attacked the movement's members as they were holding religious processions, with the government alleging that the Muslims had blocked a convoy of the country's defense minister.
The movement categorically rejected the allegations and said the convoy had intentionally crossed paths with the IMN's members to whip up an excuse to attack them.
The violence led to the death of three of Zakzaky's sons and more than 300 of his followers.
The couple were kept in custody despite a 2016 ruling by Nigeria's federal high court that ordered their release from prison.
Amid the long-drawn-out jail term, the couple were allowed to leave for India for medical purposes. Their stay was, however, reportedly plagued by the state's interference aimed at preventing them from receiving proper medical treatment.