Europe
Iran
Middle East
North America
Senior Cleric Hails Iran's Stance in Reducing JCPOA Commitments
Tehran's provisional Friday Prayers Leader Ayatollah Seyed Ahmad Khatami lauded the Iranian government's decision to reduce its commitments under the Joint Comprehensive Plan of Action (JCPOA), and said that the Iranians are united against the West's violation of pledges.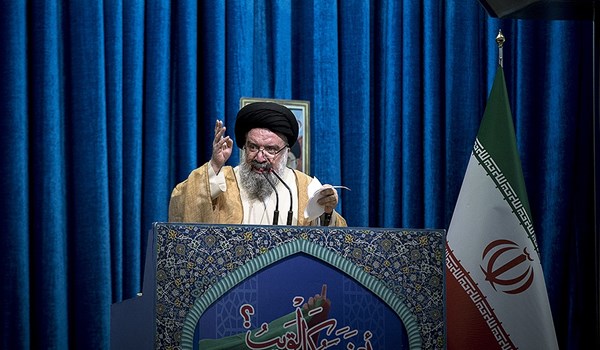 Addressing a large and fervent congregation of the people in Tehran on Friday, Ayatollah Khatami said, "The US and Europe have breached the JCPOA and they rudely ask Iran to remain committed to the nuclear deal; the right thing is what the Iranian government has done, that is scaling down its nuclear deal undertakings and this is what the Iranians want."
The senior cleric, meantime, pointed to the seizure of Iran's vessel by the UK as piracy, and said, "What Britain has done is reminiscent of the crimes committed by the old fox (the UK)."
Iran has said that it will take the second step in reducing its commitments under the 2015 nuclear deal more "firmly" if a European payment system designed to bypass sanctions proves to be "superficial".
Under the 2015 nuclear deal, Iran was committed to export its stockpiles of low enriched uranium exceeding 300 kilograms and heavy water exceeding 130 tones in order to stay within limits agreed to under the JCPOA.
However, almost a year after US President Donald Trump abandoned the JCPOA, the US imposed sanctions on Iran's low enriched uranium and heavy water exports.
Shortly after, Iran responded to the US actions by suspending its commitments to agreed heavy water and enriched uranium limits, urging the remaining signatories – Group 4+1 (Britain, France, Russian, China plus Germany) – to take practical steps to protect the deal, including Iran's right to export the nuclear-related material.
The US unilaterally left the JCPOA last year in defiance of international criticism and although the deal has been ratified as a United Nations Security Council resolution. Washington also returned its anti-Iran sanctions in a move condemned by the Islamic Republic as "economic terrorism."