Iran
Middle East
Science
Senior Cleric: Iran to Continue Resisting against US by Increasing Scientific Output
Tehran's provincial Friday Prayers Leader Hojjatoleslam Seyed Mohammad Hassan Aboutorabifard blasted the US for continuing to re-impose its unilateral sanctions against Iran, and said that the Iranian people will keep on resisting the sanctions re-imposed by Washington against their country.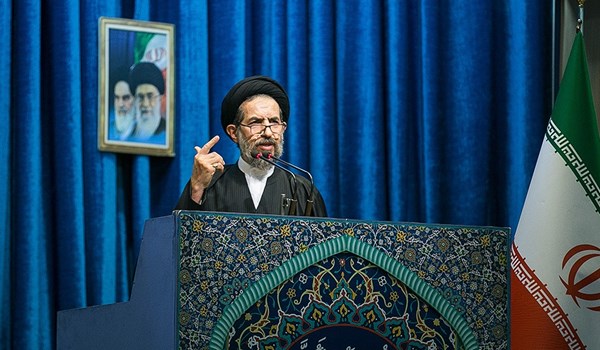 Addressing a large and fervent congregation of the people in Tehran on Friday, Ayatollah Aboutorabifard said, "Today, standing against America means moving towards producing knowledge and science which will lead to establishing a powerful and prosperous Iran with the highest possible per-capita income and the Iranians will continue to do so."
The senior Iranian cleric, meantime, lauded Iran for keeping its trade balance despite the US unilateral sanctions.
"Iran's oil export in the first seven months of this year (March 21 – October 22) stood at some $30 billion while the country has imported some $22 billion and this trade balance is an honor for the country," he added.
In relevant remarks on Wednesday, Iranian President Hassan Rouhani underlined that given the US stubbornness in opposition to the removal of the sanctions against Iran, his country has no way but resistance against Washington.
"We are in sanctions conditions and it is not our fault and these conditions have been created with the provocation of the Zionists and the reactionary regimes in the region," Rouhani said in Tehran.
"In such conditions, we do not have any way but resistance against those that have imposed the sanctions. Meantime, we have not closed the doors to talks," he added.
President Rouhani stressed that once the US removes the "terrorist unfair" sanctions, the two countries' high-ranking officials could meet within the framework of the Group 5+1.
He said when he was in New York for a UN General Assembly meeting, he had told the European interlocutors that he would meet the US president immediately after and only when Trump removed the sanctions on Iran.