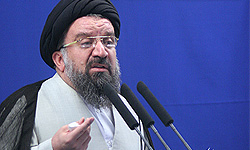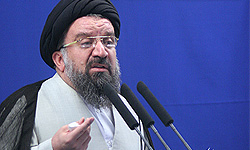 Tehran's Provisional Friday Prayers Leader Ayatollah Ahmad Khatami on Friday said that no Iranian will compromise on the country's nuclear rights.
"Nobody will make a deal on national nuclear rights; neither will anybody turn a blind eye to the legal right of the nation. If westerners wish to play on us and refuse to deliver fuel to Tehran research reactor, Iranian nuclear scientists will step forward and provide the fuel too," Ayatollah Khatami said in his second Friday prayers sermon in Tehran University campus.
"They (westerners) constantly claim that Iran should build trust, while you are the ones distrusted by us," the Islamic republic news agency quoted Ayatollah Khatami as saying.
He noted that Iran owes its success in nuclear energy field to wise guidelines of the Supreme Leader of Islamic Revolution and officials' support.
Referring to Iran's 10 percent share in French Orbit enrichment plant, Ayatollah Khatami said, "You are specialized in violation of rights and in plundering. That's for 30 years that you do not provide Iran with the 10 percent right. Now how can we give you the guarantee for 3.5 percent enriched uranium and for the return of 20 percent enriched uranium to Iran? Iranian nation is well aware and will not be deceived by you. Whom do you try to deceive? Iranian nation is alert and will not be deceived by you."
He then said Tehran research reactor has applications in Medicare and cancer treatment, adding, "Under the IAEA regulations, you should give its fuel to Iran."
On the Iran-US relations, Ayatollah Khatami said Iran's refusal to compromise with the US is not because of obstinacy, prejudice and emotions; rather it is due to a fully wise stance.
Since August 1953, Iran has observed nothing but treason and crimes on part of the US, he added.
"Since early Islamic Revolution, there have been coups, provocation of ethnic groups, imposed war, violation of Iranian nation's interests and anti-Iran international stances, and freezing of Iranian assets by the US. According to the Supreme Leader of Islamic Revolution, anybody wishing to record the US' 30-year crimes in Iran will come across with a thick and voluminous book…"
Referring to recent statement of the US President Barack Obama regarding the Iran-US relations, Ayatollah Khatami said, "He falsely claims that we (Americans) do not interfere in Iran events. Such a big lie! You candidly interfered in the post-election events and your media launched provocations."
Also referring to the last week anti-Iran approval of the US Congress, the cleric said the passing envisions more than $50 million for sabotage and soft war against the great Iranian nation.
"As long as the imperialistic attitude prevails in the US, they (Americans) should know that Iranian nation will never yield to the satanic negotiations," Ayatollah Khatami concluded.