Syria
Senior Cleric: Trumps' Anti-Iran Rhetoric Due to US Hostility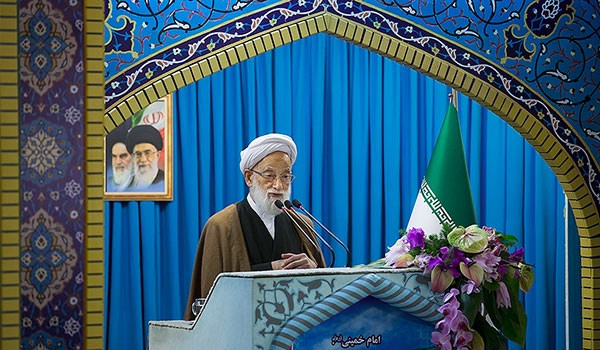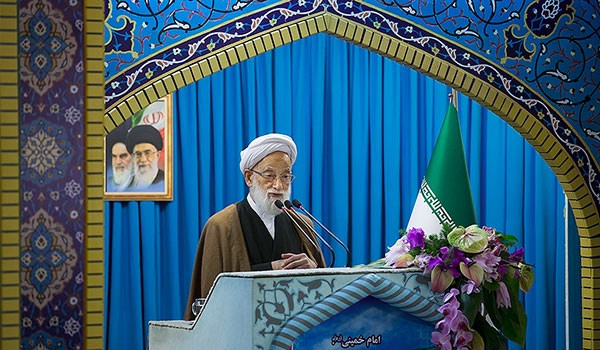 Tehran's provisional Friday Prayers Leader Ayatollah Mohammad Emami Kashani strongly blasted the US president for his anti-Iran rhetoric, and said Donald Trump's claims emanate from the age-old US hostility towards Iran.
Addressing a large and fervent congregation of the people in Tehran on Friday, Ayatollah Emami Kashani said, "The remarks by the ignorant and impolite US president against the Iranian nation have to do with jealousy and animosity."
The senior cleric also blasted the US president for the statements he made against the Islamic Revolution Guards Corps (IRGC).
In relevant remarks on Thursday, Iranian Foreign Minister Mohammad Javad Zarif blasted his US counterpart Rex Tillerson for speaking of regime change in Iran, stressing that the Iranian people will not be fooled by Washington which calls them as terrorists and uses a fake name for the Persian Gulf.
"US changed one elected gov't in Iran— in 1953. It has tried a repeat since (19)79. Iranians (will) not (be) fooled by US game & (are) unmoved by fake sympathy," Zarif wrote on his twitter page.
"Faux sympathy for Iranians belied by Trump's use of fake name for Persian Gulf, calling them terrorist nation & banning them from visiting (the US)," he added.
Stressing that the Iranian people have elected their president (Rouhani) with 6 million more popular votes and 73% turnout, he said that the mantra used by the US officials on "standing with the Iranian people" is a lost strategy.
Tillerson said Wednesday that US sanctions against Iran targeted what he called as the country's "malign behaviors" and were aimed at helping the Iranian people take control of their government.
Tillerson told a New Delhi press conference after talks with India's Foreign Minister Sushma Swaraj that the United States would not block "legitimate" business activities with Iran by India or any other ally.
US President Donald Trump's administration has taken a tougher line with Iran, threatening to tear up an international accord on its nuclear program.
Tillerson made it clear that the United States sought to give "support for modern voices inside of Iran" in a bid to bring about an eventual change of government.
His remarks came days after Trump used the fake name of the Arabian Gulf for the Persian Gulf which caused extreme wrath among the Iranian people.