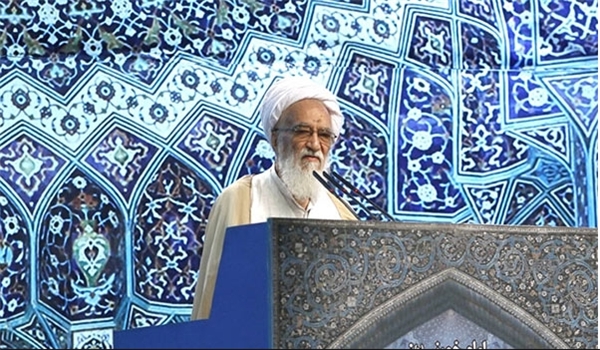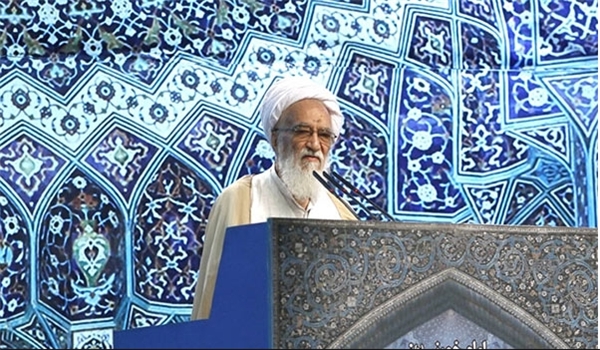 Tehran's Provisional Friday Prayers Leader Ayatollah Mohammad Ali Movahedi Kermani underlined that the US is in need of a nuclear agreement more than Iran, and stressed that any final deal should include removal of all sanctions against the country.
Addressing the Iranian team of negotiators, Ayatollah Movahedi Kermani said, "You should make the other side, specially the US, understand that the Iranian nation insists on removal of the coercive sanctions."
Movahedi Kermani, who was addressing a large and fervent congregation of people on Tehran University campus on Friday, noted that the US government needs striking a final agreement more than Iran.
In May, Supreme Leader of the Islamic Revolution Ayatollah Seyed Ali Khamenei reiterated Iran's opposition to the inspection of sensitive military sites and interview with the country's nuclear scientists.
"As said before, no permission will be given for inspection of any military centers and talks with the nuclear scientists and other sensitive fields of study and intrusion into their privacy," Ayatollah Khamenei said, addressing the Iranian cadets at Imam Hossein University – a renowned military academy of the IRGC – in Tehran.
"I will not allow the aliens to hold talks and interrogate the dear and distinguished scientists and sons of this nation," he stressed.
Ayatollah Khamenei also referred to the nuclear talks underway between Iran and the world powers, and said one of the challenges facing the talks is the other side's bullying and excessive demands.
But he stressed that the enemies should know that the Iranian nation will not bow to the pressures and excessive demands.