Palestine
Senior Hamas Leader: Hamas Pursues Palestinian Cause Powerfully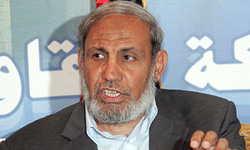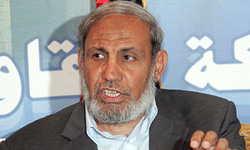 Mahmoud al-Zahar, a senior official of the Palestinian Hamas Movement, stressed that materialization of the Palestinian cause is a top agenda of Hamas Movement.
"The principles and strategies of the Palestinian Islamic Resistance Movement are stable and irrevocable, and we will powerfully pursue the Palestinian cause," al-Zahar said, speaking at the meeting with Secretary of Iran's Supreme National Security Council (SNSC) Saeed Jalili here in Tehran on Wednesday.
Al-Zahar, who is also the foreign minister of Ismail Haniyeh's government, also briefed Jalili on the latest developments in Palestine.
Also during the meeting, Jalili described the overwhelming wave of the Islamic Awakening in the region which has, thus far, resulted in the overthrow of the West-backed dictators as a "good opportunity" for strengthening Islamic resistance.
He also voiced Iran's support for the Palestinian cause, and called on resistance movement to maintain vigilance against the plots hatched by the Zionists and their supporters.
Palestinians, along with the Muslim world, believe that Arab revolutions and uprisings will yield desirable outcomes for the Palestinian cause.
Since the start of 2011, the region has witnessed a growing wave of popular protests resulted from the people's growing awareness and vigilance.
Tunisia saw the overthrow of Zine El Abidine Ben Ali in a popular revolution in January, which was soon followed by a revolution which toppled Hosni Mubarak in Egypt in February.
Bahrain, Jordan, Kuwait, Saudi Arabia, Yemen and Libya have since been the scene of protests against their totalitarian rulers, who have resorted to brutal crackdown on demonstrations to silence their critics.
While Libya celebrated the victory of its revolution after the death of the country's dictator, Muammar Qaddafi, in October, uprisings continue in several other Muslim states.